Care staff absences cost Scottish Borders Council £650,000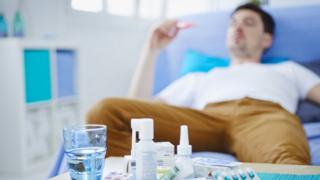 Staff absences at Scottish Borders Council's arms-length care company SB Cares have cost the local authority £650,000 over the last financial year.
The main reasons were maternity or paternity leave, annual leave, sickness absence and scheduled training.
However, council officers are confident they can cut £75,000 from the costs in the coming year.
They intend to implement what they call "improved workforce absence management" to help tackle the issue.
A Scottish Borders Council spokesperson said this would involve introducing new rota patterns and sharing staff across service areas more effectively.
Other measures would include reducing travel time and costs through efficiency measures, ensuring sickness absence management policy is applied consistently, and providing training courses in local areas rather than centrally.
'Critical need'
Of the £650,000 that SB Cares lost due to staff absences, £155,000 was spent on recruiting agency staff to cover shifts.
A council spokesperson said: "SB Cares do use agency staff but only when there is a critical need to ensure clients are provided with visits and all other internal options are found to be impracticable or impossible.
"It should be noted that our aim is to minimise and eradicate where possible the use of agencies in our care service and that we continue to recruit robustly in all areas.
"SB Cares provides the service of last resort function to the council, which means when other care companies can no longer provide a service to clients, we will endeavour to provide the support required."
The spokesperson said this often meant SB Cares was asked to take over packages of care for clients with "little or no notice".
The care company is the only provider offering the service in the region which the council said could mean they sometimes had to use agency staff to ensure all clients received the service they needed.
Story by local democracy reporter Joseph Anderson