Three rescued after canoe capsizes in Carrick Bay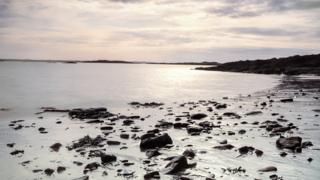 Three people including a child have been rescued by a swimmer and a kayaker after a Canadian canoe capsized.
The alarm was raised at 12:30 when the vessel tipped over in Carrick Bay off the Dumfries and Galloway coast.
A man swam out from the shore to rescue the child while a kayaker paddled out and towed two men to safety as they clung to the side of his kayak.
Coastguards said a fourth person in the canoe had made their own way back to shore.
Teams from Kirkcudbright and Isle of Whithorn, the coastguard helicopter from Prestwick and the Kirkcudbright RNLI lifeboat also went to the scene.
The four people were checked over by the coastguard helicopter paramedic and gave no cause for concern.