Pinneys of Scotland staff offered jobs support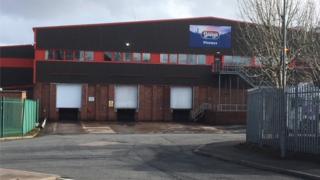 A jobs fair has been held to support staff facing redundancy at a south of Scotland fish processing factory.
Young's Seafood announced the closure of the Pinneys of Scotland plant in Annan in April with the loss of 450 jobs.
Efforts to sell the factory have so far proved unsuccessful.
The jobs fair was organised by the Scottish government's PACE team and was attended by local employers with vacancies to fill.
Rural Economy Secretary Fergus Ewing said it was a "great opportunity" for anyone in the area looking for work - and Pinneys staff in particular.
'Clear message'
Rob Davidson, deputy leader of Dumfries and Galloway Council, said: "This jobs fair forms part of our ongoing joint response to the announcement of the closure of Pinneys and our commitment to the staff and wider community of Annan."
South of Scotland MSP Colin Smyth said that despite the jobs fair and an announcement of £250,000 from the South of Scotland Economic Partnership, more needed to be done.
"My clear message to Fergus Ewing is this is nowhere near enough to put in place the massive measures that are needed to support existing businesses and bring in new ones to deliver the jobs at the level the area needs and more investment is required," he said.
"Initiatives such as the jobs fair also need to happen on a regular basis and not just be a one-off."