Dumfries High Street a 'land of opportunity'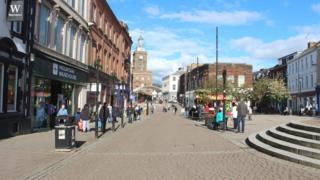 Hundreds of people have signed up to a community bid to revive the fortunes of a south of Scotland high street.
The Midsteeple Quarter project hopes to realise the potential of the "land of opportunity" in Dumfries town centre.
It aims to bring a number of empty buildings back into use in the heart of the area.
Creative producer Kevin Reid said that community support could provide the "crowbar" to put pressure on landlords to do something about the properties.
The Midsteeple Quarter is a community benefit society set up to enable local people to help shape "a prosperous, compassionate and vibrant" town centre.
Mr Reid told the Good Morning Scotland programme that it now had between 400 and 500 members backing that vision.
He said it was clear that there was work to do in the town centre.
"It is in ill repair, a lot of it," he said. "There are more trees growing out of the roofs than there are on the High Street area.
"It just really is in a bit of a bad state at the moment."
'Hit hard'
However, he said that community support was now increasing for the project to look at ways to transform the area.
"It just keeps growing - the more we do things, the more we are out there," he said.
"I guess in the past we have always opted for the idea that it was the council's fault, but I am aware that the council have been hit really hard over the last 10 years by austerity."
Midsteeple Quarter board member Jordan Chisholm moved back to Dumfries from Glasgow and hopes to see more people return or remain.
"I want Dumfries to become a place people are proud to call home and not necessarily want to leave," she said.
"I don't want it just to be a town for older people.
"I don't have children yet but I want my children to grow up in Dumfries and be proud of it and to stay."
She said part of the problem was realising the potential of properties in the town.
'Last resort'
"A lot of our buildings are owned by people who don't even know Dumfries," she said.
"It is hard for us to gain control of those buildings but if we did have access to them, we could transform them.
"Our high street is a land of opportunity."
One possibility would be an "urban" buyout of the buildings, inspired by community buyouts in more rural areas.
John Dowson, who chairs the Midsteeple Quarter board, said that compulsory purchase was something they were looking at but it was a "solution of last resort".
He said the first avenue was to enter into discussions with landlords to get them to improve properties or try to find resources to buy them out.
He added that events in Dumfries were being watched "really, really closely" by the Scottish government to see if they could be used elsewhere in the country.