Staff suspensions cost Scottish Borders Council £250,000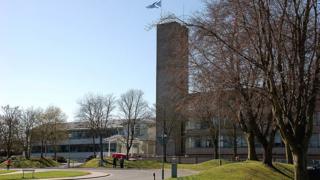 Staff suspensions have cost a council more than £250,000 over the last four years.
The figures are contained in a response by Scottish Borders Council to a freedom of information request.
They show that paying the salaries of 32 suspended staff members cost the local authority £253,929 between April 2014 and March 2018.
The council said that special paid leave was only used when there were "no practical alternatives".
The suspensions also cost the council 2,244 working days, with the average length of time employees spent suspended being 70 days.
The shortest time on suspension was just one week but one employee spent 253 days on paid leave before eventually being dismissed.
'Especially unfair'
A council spokesperson said that paid leave was mostly used in instances when it was felt that the employee could influence or interfere with an investigation, was considered disruptive or a threat to colleagues or when deemed unfit for work due to the influence of drugs or alcohol.
There are also provisions for placing an employee on paid leave following allegations of harassment or bullying.
James Price of the Taxpayers' Alliance, which campaigns for lower taxes and highlights examples of what it believes to be government waste, said: "It's completely unacceptable for councils to use taxpayers' money to pay for their inability to make tough decisions.
"It would be better for all concerned if staff matters were dealt with in a timely fashion, and residents should certainly not be fleeced by the council like this.
"It is especially unfair when council taxes are going up every single year and services are being cut."
'Regular review'
The cost of each suspension excludes the added cost of payouts and employment tribunals in instances when an employee's contract is terminated but it is ruled that they have been unfairly dismissed.
In one case, Scottish Borders Council was ordered to pay damages of £56,581 to a former employee previously on paid leave and taking home home a £44,000-a-year salary.
The council spokesperson added: "Special paid leave is only used when there are no practical alternatives during an investigation.
"Alternatives, such as moving the employee to a different role during the investigation, are considered first.
"Cases in which special paid leave is being used are kept under regular review, normally at fortnightly intervals, and efforts are made to ensure such cases proceed as swiftly as practical."
Story by local democracy reporter Joseph Anderson