Rhins of Galloway coastal pathway funding secured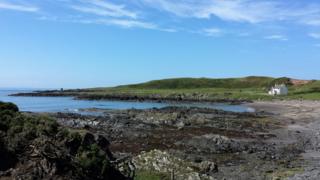 Funding has been secured to allow a coastal path taking in the clifftop scenery of Scotland's most southerly tip to be created.
More than £660,000 from the National Lottery will go to the 64-mile Rhins of Galloway walking route.
It will link into the existing Mull of Galloway trail creating an 83-mile circular route around the peninsula.
The latest funding completes a package of £1.1m needed to repair and connect existing paths and create new ones.
Head of the Heritage Lottery Fund in Scotland, Lucy Casot, said: "The Rhins of Galloway is, to a large extent, unexplored by many yet its scenery is spectacular.
"Thanks to players of the National Lottery, we're delighted to support a project which will encourage people of all ages and abilities to get outdoors and experience the beauty of this area.
"What's good for the local tourist economy is also good for the soul."
The project - being led by Dumfries and Galloway Council - has been under development for the past five years.
Archie Dryburgh, who chairs the local authority's economy, environment and infrastructure committee, said: "Dumfries and Galloway is such a beautiful part of the country with so much scenery and nature around us.
"We are delighted with the announcement of funding from the Heritage Lottery Fund.
"It will enable a beautiful new walking route to be developed in the Rhins of Galloway.
"It is such a spectacular part of our region which we will be able to share with lots of visitors who will get to experience the beauty of our region for themselves."