Scottish Borders floral display cutbacks put on hold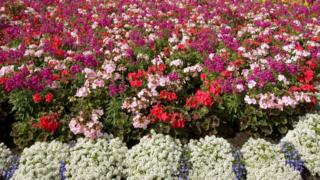 A council's plans to stop the seasonal planting of floral displays have been put on hold for a year.
Scottish Borders Council said it would allow "further conversations" to take place with residents and organisations.
It had proposed to cut back on planting and shift to permanent displays like shrubs and increase wildflower areas in a bid to cope with reduced funding.
However, it said that after "listening and understanding" public concerns it had decided to defer the plans.
Sandy Aitchison, SBC's executive member for neighbourhoods and locality services, said he believed that community views were crucial to the process.
"It is a decision we have taken in light of representations, I have to say, from various communities," he said.
Mr Aitchison added that there were also environmental issues to be taken into account.
"I think it is just a case of take stock and defer the decision we took due to budget constraints," he said.