'Brazen theft' at Galashiels mobile phone store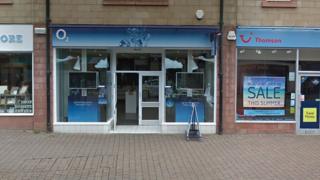 Three men have carried out a "brazen theft" stealing goods worth thousands of pounds from a mobile phone store.
The incident happened at about 13:20 on Wednesday at the 02 shop on Channel Street in Galashiels.
Three men entered the premises and - while one tried to distract staff - the others stole 15 handsets including iPhones and Samsungs.
In total goods worth more than £11,000 were taken and police have appealed for any witnesses to come forward.
Two of the three men have been described as white, 5ft 10in tall and of stocky build.
Identify suspects
Both of them were wearing black baseball caps and black shorts and green hooded tops - one of them with a black patch on the shoulder.
The third man is said to have been white, about 6ft tall and of medium build and wearing a black baseball cap, black hooded top, grey shorts and white trainers.
Det Sgt Callum Peoples said: "This was a brazen theft during the middle of the day, which resulted in several thousands of pounds worth of phone handsets being stolen.
"Anyone who can help us identify these suspects, or who has information that can assist with our investigation is asked to come forward.
"In addition, if you are approached by anyone looking to offload a phone handset without the appropriate packaging or proof of ownership, do not purchase it and contact police."