New life breathed into Dumfries and Galloway smoking strategy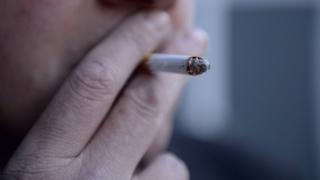 A strategy to reduce tobacco use is being refreshed in the face of a marked decline in smokers using a support programme to quit.
NHS Dumfries and Galloway's Smoking Matters service expects to fall short of its target for helping people in deprived areas kick the habit.
It is now looking at ways to update the strategy and increase use.
Among the new ideas are projects to reach out to smokers including holding virtual clinics and using social media.
As well as the impact on health, it has been estimated that between £15m and £20m is spent in the region each year treating tobacco-related illnesses.
The Scottish government hopes to create a "tobacco free" generation by 2034.
Below target
To help deliver that, NHS Dumfries and Galloway launched a three-year tobacco control strategy in 2016.
It is based on prevention, cessation and regulation.
Over the past 12 months, the local Smoking Matters service was tasked with helping at least 232 people in deprived areas quit tobacco.
However, after nine months the figure was just 126 and while the final total has still to be published it is expected to fall well below the target.
It is now planned to update the local tobacco strategy to look at ways to boost those figures.