Whithorn Priory quilts commemorate 'forgotten' Holocaust victims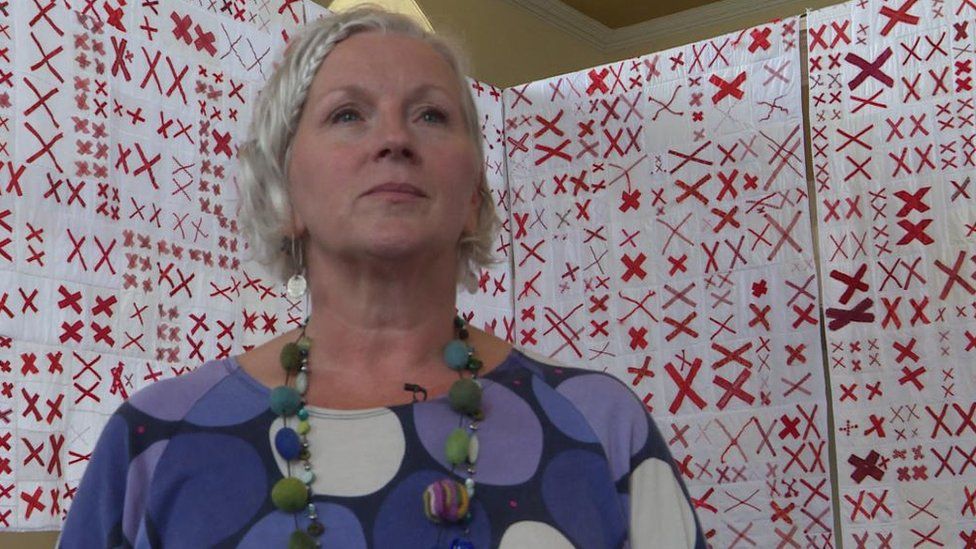 An exhibition is opening in a church in Galloway to remember some of the forgotten victims of the Holocaust.
Quilts have been made to commemorate thousands of people murdered for the sole reason that they were disabled and didn't fit with the Nazi ideology of creating an Aryan master race.
In 1940 and 1941 some 70,273 men, women and children were murdered under a Nazi programme called Aktion T4 because they were ill, or had a mental or physical disability.
They were deemed "unfit" and an "economic burden on society" - they were regarded as genetically inferior and subjected to involuntary euthanasia.
Rebecca Davison stumbled across the story on social media through a blog by a woman called Jeanne Hewell-Chambers in America who - two years ago - started Project 70273.
Her idea was to commemorate these victims in a quite unique way - in hundreds of patchwork quilts.
"She decided that the world should know about it and we should spread love and humanity across the world," explained Ms Davison.
People in the UK - including Ms Davison - have now become involved and the result is hanging in Whithorn Priory.
Draped from the balcony around three sides of the church, and falling halfway towards the pews below, is a striking collection of quilts.
They're made from panels of white cloth stitched together. Each panel has on it two blood-red crosses.
They're strikingly similar - yet poignantly unique. Each pair of crosses symbolic of a life lost - and the way the victim was condemned.
Their medical records were given to three doctors - if two of them marked the form with a red cross, that person's fate was sealed.
Quilts from Project 70273 have been displayed at three locations in England including Rochester and Durham Cathedrals.
The Whithorn exhibition is the first in Scotland and came about because Ms Davison has connections with the town.
An approach was made to minister Alex Currie and his wife Kirsty.
"When you look at the numbers of the crosses and you realise that each of those crosses represents a person it is quite staggering to realise how many people were exterminated in that particular way," she said.
In anticipation of the exhibition, some women in Whithorn, led by Roselle Stead - created a quilt of their own.
"We have made it in the last four weeks and put it together and we just hoped it was going to be the same as the others," she said.
It is one more quilt towards the hundreds that will be required to commemorate fully the victims of this particular Nazi atrocity.
"The ultimate aim is to make 70,273 blocks because that represents the number of people who were murdered and then bring them all into hundreds of quilts" said Ms Davison.
"I think it is a commemoration for those people that we don't forget and we remember that there were lots of people, unheard of people, that were exterminated.