Heriot-Watt student designs 'tactile tartan'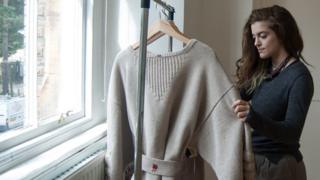 A student has designed a tactile tartan to try to make the traditional colours and patterns more accessible to people who are blind or visually impaired.
Anna Cuinu studies at Heriot-Watt's Textile and Design School in Galashiels.
As part of her masters course in knitwear she held focus groups with the Royal National Institute for the Blind.
As a result she designed a tartan fabric using stitch structures to create the "sensory experience".
A colour coding system called Feelipa was also used to communicate the colour of the garments and applied in the form of wooden buttons.
Other features included large draw string pockets and tie fastenings instead of zips and buttons.
Ms Cuinu said she hoped her designs could influence the fashion industry.
"Accessible designs are often gimmicky or designed by larger companies to use as a marketing tool, where the innovative product is then not rolled out for use by those who would benefit from it," she said.
"I'm excited to go forward with what I've learnt over the past year between knitwear manufacturing, materials testing methods and methodical approaches to research and design to create more accessible clothing solutions."
RNIB community facilitator Jane Coates said Ms Cuinu had made a real effort to understand the issue.
She said she had undergone their volunteer training and attended numerous classes to "get a genuine feel" for the difficulties encountered by the partially sighted.
'Absolutely critical'
Lecturer Dr Lisa Macintyre said the project was the first time they had considered the issues of dressing with visual impairment.
"Her commitment to the project, understanding and engaging with the people that her project aims to serve has been outstanding," she said.
"It is always important for designers to engage with their intended consumers and to really understand their needs but it was absolutely critical in a project like this one."
RNIB Scotland director James Adams said it was "wonderful" that designers were thinking of people with disabilities.
"It's their generosity of spirit, allied with their undoubted talent that will go far in creating the more inclusive society we all want," he said.