Eskdalemuir hit by 'mini crime spree'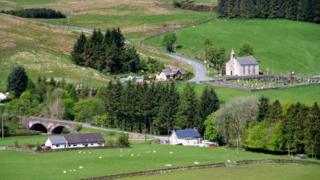 Police are investigating a "mini crime spree" in a south of Scotland village.
A number of properties were broken into and items stolen in the Eskdalemuir area in the early hours of Friday.
A red Honda quad bike worth about £6,000 and a chainsaw valued at £500 were taken from a barn on a farm.
In another raid on a garage, a two-wheeled trailer and a Honda generator were stolen. The Ex-Serviceman's Hall was also targeted and although nothing was taken, the property was damaged.
A work site was also broken into but it appears only a key for a vehicle was taken.
PC Calum Benson said: "Clearly a mini crime spree has taken place in the early hours of Friday morning.
"We are keen to hear from anyone who may have been in the Eskdalemuir area, or travelling between Eskdalemuir and Langholm over this period if they saw or heard anything suspicious, or indeed saw any vehicles which were on the road at that time."