NHS Borders apologises for stroke diagnosis failure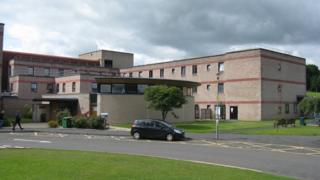 A health board has apologised after doctors failed to diagnose that a patient had suffered a stroke.
The man died several weeks later and his widow complained to the Scottish Public Services Ombudsman about his care and treatment by NHS Borders.
An investigation ordered improvements be made and also told the health board to apologise.
A statement said it accepted some aspects of care had been "unacceptable" and was "very sorry" for any distress.
The investigation discovered that doctors at Borders General Hospital failed to recognise the patient - named only as Mr A - had suffered a stroke after being admitted to the wards with pneumonia.
Required monitoring
It was only after he had been discharged that a later CT scan confirmed the stroke and, by the time he had been readmitted to the BGH, his condition had deteriorated and he died several weeks later.
The SPSO investigation found it was "unreasonable" that a CT scan was not carried out during his initial admission, although it could not say whether or not this would have diagnosed Mr A's stroke.
The man's widow - Mrs C - also complained that her late husband did not receive the required six-monthly monitoring of a replacement heart valve.
She said health professionals ignored concerns raised by her and her family in the weeks and months before her husband's death.
The SPSO upheld all of the woman's complaints.
'Difficult time'
As well as being ordered to apologise, NHS Borders has been given a list of required improvements.
They include a stipulation that all patients admitted to hospital with cognitive impairment should receive CT scanning in line with the Scottish stroke care standards with "ongoing structured assessment, management and review of all such patients".
A spokeswoman for NHS Borders said: "The SPSO findings highlighted that some aspects of care that Mr A received were unacceptable.
"We have accepted the recommendations identified in full and have started to make the changes required so that similar experiences are avoided in the future.
"We are very sorry for the additional upset that our failings have caused Mrs C and her family at an already difficult time and have offered a full apology."