Whitesands flood scheme inquiry timetable set out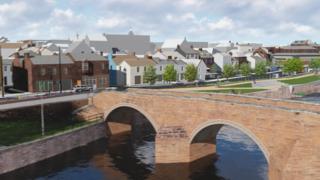 The timetable has been set out for a public inquiry into a £25m flood protection plan for Dumfries.
Four weeks have been set aside to hear evidence in the hearing into the Whitesands project.
Dumfries and Galloway Council's administration has said it believes the project would provide the right level of protection and boost regeneration.
However, opponents have voiced concerns about the costs, the impact on riverside views and parking spaces.
A last-ditch attempt to get the local authority to drop the plan failed last month.
The inquiry will start on 6 November and look at the visual and heritage impact, the effect on tourism and parking and community engagement as well as technical matters.
It has been scheduled to run until 7 December.