Hawick business incubator plan hatched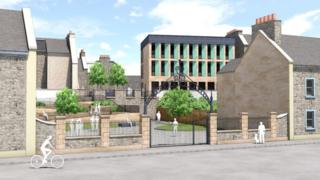 Plans have been submitted for a new business incubator centre in a Scottish Borders town.
It would see the demolition of several town centre properties in Hawick including a former department store.
The new development would create office space for up to 17 small and start-up businesses and support up to 25 full-time jobs.
The project is one of four supported by £3.6m of Scottish government funding to boost the local economy.
Mark Rowley, Scottish Borders Council's executive member for business and economic development, said: "Redeveloping this site has multiple benefits for Hawick.
"It will clear an area of disused buildings in disrepair, provide new, small office units for existing local businesses and entrepreneurs, and it will hopefully act as a catalyst for further property redevelopment and investment in the town from the private sector."
He said a significant amount of work had already been carried out on the proposal and they were now in a position to put forward plans for consideration.
The Scottish government funding has also been used to develop four industrial units at the edge of the town at Galalaw Business Park, with work almost complete.
In addition, the council has committed to upgrading business facilities at the town's Tower Mill and undertaking feasibility studies for the regeneration of other key properties to inform potential investors.