'Sleeping' driver admits early-hours motorway death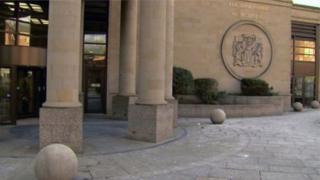 A driver who killed another motorist after falling asleep at the wheel has been jailed for almost four years.
Jamie Andrews veered across three lanes before striking Michael O'Donnell's vehicle on the hard shoulder of the A74(M) in Dumfriesshire.
Andrews had gone without any proper sleep to travel through the night to buy parts for a car.
Mr O'Donnell, 58 - a project manager. from Rosyth in Fife - never recovered from the accident in June last year.
The High Court in Glasgow was told Andrews, 36, was so tired he even nodded off when quizzed shortly after the crash.
A judge told him it was clear he had been in an "extreme state of tiredness" that morning.
Andrews, who had previous driving convictions, was given a jail sentence of three years and 11 months after he pled guilty to causing death by dangerous driving.
'Shaking and in shock'
He was also banned from the road for seven years and 10 months.
The crash occurred as Mr O'Donnell was travelling to his work from the family home in Fife.
The hearing was told he ended up stopping his Ford Kuga in the hard shoulder of the A74(M) near Ecclefechan.
Andrews was meantime spotted driving his BMW on the same motorway shortly before the crash.
After the impact, prosecutor Greg Farrell said Andrews appeared to be "shaking and in shock" when he got out of his BMW.
Witnesses meantime raced to help an unconscious Mr O'Donnell.
But the father died later from chest and neck injuries.
Andrews was described as appearing "sleepy" and "mumbling" responses to questions.
'Tremendously sorry'
Matt Jackson, defending, said Andrews, now of Bolton, Lancs, had been driving in the early hours "to source parts for a car".
The lawyer added: "He does not remember being asleep...but accepts that he must have."
Mr Jackson said Andrews was "tremendously sorry" and had wanted to write to apologise to Mr O'Donnell's family.
Lord Burns told Andrews: "It is clear that you were considerably sleep deprived.
"There is no explanation why you found it so urgent to drive at four or five in the morning.
"You were plainly in an extreme state of tiredness.
"The only explanation can be you fell asleep, drifted across three lanes onto the hard shoulder taking no evasive action."
The judge said Mr O'Donnell was a "clearly devoted" as well as "much loved" husband and father.