Three men are sentenced to 22-years for wilful fire-raising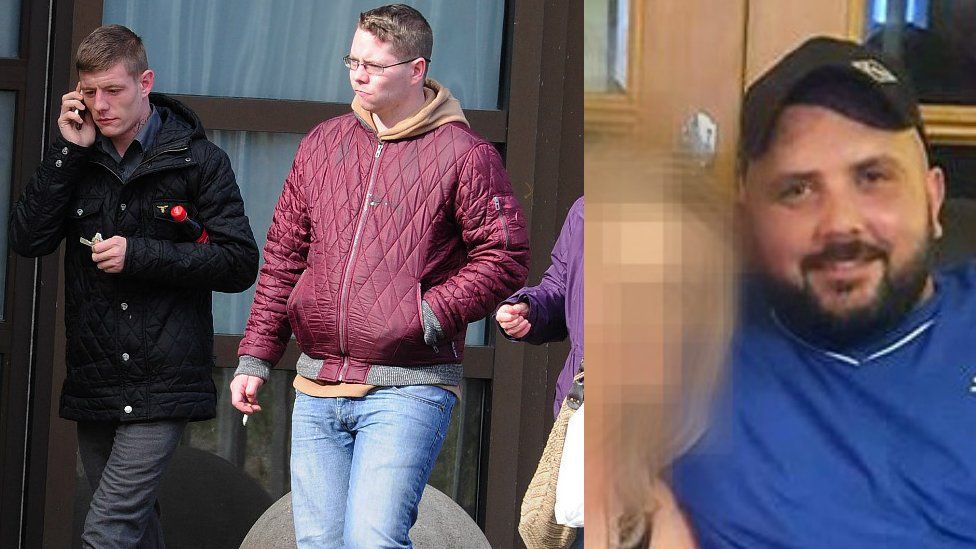 Three men who started a blaze at the home of an ex-soldier have been sentenced to 22 years in prison between them.
The fire spread to Andrew Patterson's home in Annan, Dumfries and Galloway, causing the family inside to flee.
Christopher Harkins, 34, James O'Brien, 23, and Stephen Garrity, 24, were convicted of wilful fire-raising at the High Court in Glasgow.
The blaze was started following a row over an unpaid bill.
The court heard how Mr Patterson sold Harkins firewood worth £250. There was a separate issue over a van Harkins had bought from him.
Harkins and O'Brien had "hatched a plan" to target Mr Patterson before "recruiting" Garrity, the court heard.
Mr Patterson's expensive BMW Gran Turismo was set alight with the fire spreading to his house.
Jurors heard how the blaze was so severe it took several hours to extinguish.
Lord Beckett described Harkins as "the primary organiser" in the "highly reckless" crime that would have been "terrifying" for the family.
Harkins was jailed for nine years, O'Brien six years while Garrity was sentenced to seven years.
In a police interview, Garrity said he had travelled from Dumfries to Annan with Harkins and O'Brien, saying he had been offered £50 to start a fire.
Garrity denied torching the BMW, instead insisting he had poured petrol on Mr Patterson's driveway before setting it alight.
He added: "Chris told me to get out and do it. He said he had dealings with the guy and he had stolen wood from him.
"He told me to pour petrol at the back of the driveway. James showed me where the house was.
"I used a lighter to ignite it. After I came back to the van, Chris said: 'That'll give him a scare'."
Garrity claimed he was "in tears" the next day when he found out on Facebook the extent of the damage.