Gala Fairydean Rovers' modernist football stand shut for repair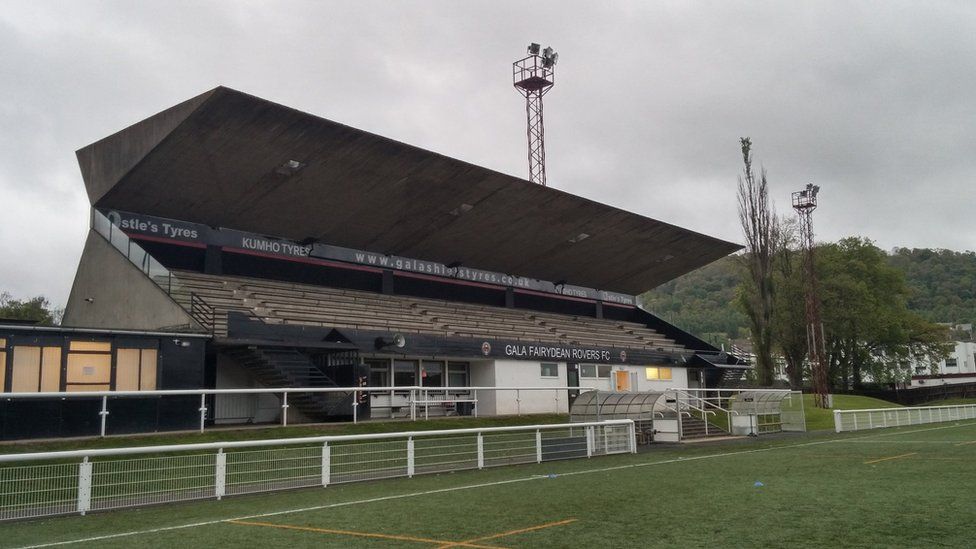 A modernist football stand designed by a renowned architect is to be shut for repair to ensure public safety.
The 54-year-old structure at Gala Fairydean Rovers ground has been recognised as of "national importance".
The club is to close the spectator section of the grandstand until early 2019 to allow an essential restoration project to begin.
It is working with Scottish Borders Council and charity Live Borders to safeguard its long-term future.
To allow survey works to begin as soon as possible, it has been decided to block off access to the stand for spectators to ensure public safety and also to enable the tests to be carried out uninterrupted.
This will apply to all bookings at the Netherdale 3G Arena including Gala Fairydean Rovers home matches in the Lowland League.
The information from the surveys will be used to inform the restoration of the iconic structure. The bar area and changing rooms within the stand will remain open.
The Netherdale grandstand, built in 1964, was designed by Peter Womersley through funding from Gala Fairydean and Gala Rovers.
It was one of the first football stadiums in the UK to use a cantilever design and has since been given category A status by Historic Environment Scotland, with visitors from across the world coming to Galashiels every year to see the stand.
Kevin Temple, chairman of Gala Fairydean Rovers, said: "We are obviously extremely disappointed that we have had to close the seating until this intrusive work is complete.
"However, our number one priority is the safety of our spectators.
"The club have been working hard to ensure that the stand is returned to its former glory and whilst this temporary closure is frustrating it also marks the beginning of the restoration process."
SBC's executive member for culture and sport Euan Jardine said the club was doing "fantastic work" in the local community.
"Alongside its community work, the club is also best known for its striking Peter Womersley designed grandstand which attracts admirers from far and wide," he said.
"I am pleased a project is being progressed to preserve the stand and hope the club, council, Live Borders and other partners can work together to ensure it remains in place for many years to come."
Olly Robertson, area manager for charity Live Borders, said the safety of sport participants and spectators was of "utmost importance".
He said it would support partners "in any way" to ensure the project was a success.