Lockerbie bombing victim tribute cycle ride 'worth it'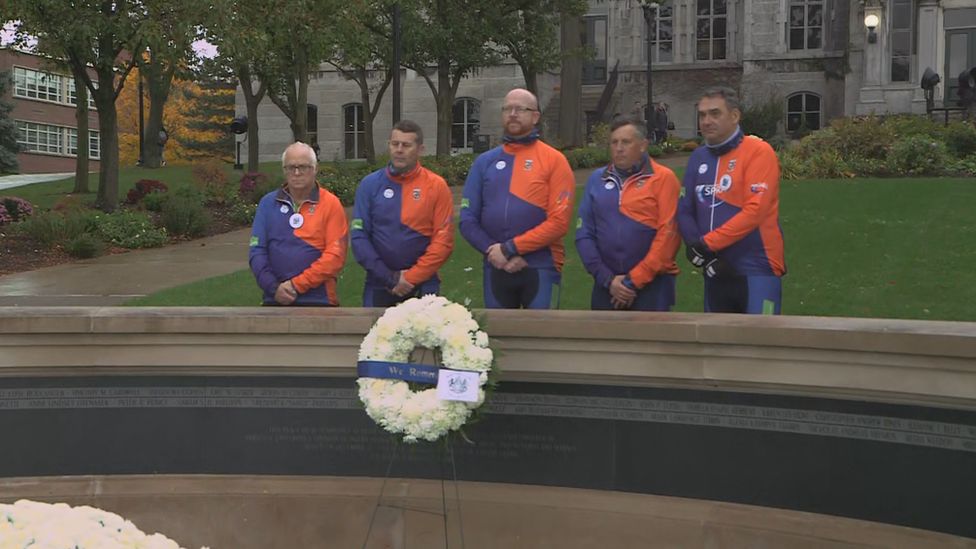 A team of cyclists has completed the final leg of its ride from Lockerbie to New York in tribute to those killed in the 1988 bombing.
The group took part in a formal ceremony at Syracuse University to remember the 35 students it lost.
Colin Dorrance, part of the team, said the journey had been "tough a lot of the time" but "absolutely worth it".
He said they had wanted to show the community in the United States they were thinking of them.
The Cycle to Syracuse began in September ahead of the 30th anniversary of the bombing on 21 December.
It claimed 270 lives and the cyclists said they were making the trip for those who did not make it home.
In a ceremony on Friday, roses were laid in memory of the 35 Syracuse students who died, and the eleven people killed on the ground in Lockerbie.
They carried out the journey in three stages starting with a tour of schools in the Lockerbie area.
There was then a mass participation cycle from Lockerbie to Edinburgh Castle last month.
The final leg in the United States was from Washington DC to Syracuse University.
As part of the challenge the team was also raising funds for a local mental health charity to fund a dedicated worker based in Lockerbie Academy.
Mr Dorrance - a former policeman who attended the scene of the Lockerbie bombing - said things had gone to plan and he felt "content".
"We met many families and they appreciated the gesture that we have made and that was exactly the intention - we wanted to show our support and unity," he said.
However, he said travel conditions had not always been kind on their American leg.
"The weather was against us, it was cold - all week it has been cold," he said.
"The traffic has been heavy, many more traffic lights than we had anticipated.
"Many were on the uphill and many were red, we've had all sorts of challenges."
Despite that he said it had been worth the effort.
"I wouldn't have changed any of that for the world," he said.
"We have met relatives each day either before, during or after the ride - they've all been hospitable, they've all told us stories of what they've done with their lives in the 30 years since.
"We have heard all sorts of stories of good things they have done in the years afterwards.
"We wanted to show the community here that we are thinking of them, not just remotely from across the Atlantic but we were prepared to come here literally under our own steam to do that - that's how important it is to us."
Related Internet Links
The BBC is not responsible for the content of external sites.