Dumfries and Galloway Council tackles 'serious weaknesses'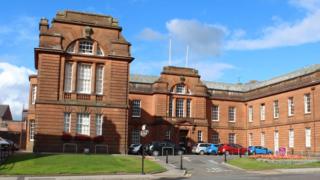 A Scottish local authority has been praised for the progress it has made in tackling the issues raised in a critical report nine years ago.
Serious weaknesses in leadership, management and services were found at Dumfries and Galloway Council in 2009.
However, the Accounts Commission said it now had a clear strategic direction and more effective leadership.
It warned there were "hard choices" ahead to continue that progress and meet the challenges ahead.
The Audit Scotland report outlines the scale of savings made by the council - some £86m - since 2010/11.
It also estimates a further £79m will have to be cut from spending by 2022/23.
Ronnie Hinds, deputy chairman of the Accounts Commission, said the local authority had made good progress but more work lay ahead.
'Right track'
"The council has made significant improvements over the last nine years," he said.
"But it faces hard choices about how it provides services in the future as budgets tighten.
"Meeting this challenge will require clear officer and political leadership and strong corporate management of its services and its transformation programme."
Council leader Elaine Murray said they were "fully aware" of the difficult decisions ahead.
"I do not underestimate the challenges we will face but the appetite and desire to accelerate the pace of change is already evident throughout the council," she said.
"The report is a welcome reminder that we are on the right track but there are elements that need improvement and we will work together on these to maintain our progress and continue to deliver on all our priorities."
'Massive turnaround'
Former leader Ronnie Nicholson said the report showed a "massive turnaround" at the council.
"It's easy for people to forget that the last Audit Scotland report in 2009 was utterly scathing," he said.
"It said the council had serious weaknesses and lacked political and managerial leadership.
"Now the report says in recent years there has been clear strategic direction and strong leadership, with the rate of progress increasing from 2014, but that the biggest threat comes from a lack of funding."
He said he thought staff deserved "enormous praise" for their efforts in turning round the council.