Joanna Lumley joins Peter Pan celebrations in Dumfries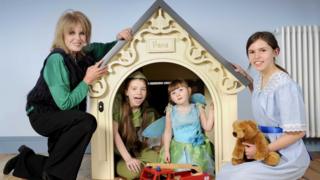 Absolutely Fabulous star Joanna Lumley has joined celebrations being held ahead of the reopening of a house which helped inspire the Peter Pan story.
Moat Brae in Dumfries will open as a national centre for children's literature next year.
Ms Lumley is a patron of the Peter Pan Moat Brae Trust, the organisation behind the project.
She was a guest at an evening of theatre, dance and music as part of the Dreams for the Future Festival.
The school drama club set up by Peter Pan author JM Barrie put on a show - called Staged - at Dumfries Academy, where he studied in the 1870s.
The whole festival is part of Scotland's Year of Young People and is a "pre-opening event" for Moat Brae which is due to open in the spring after a multi-million pound overhaul.
Ross Whalen took on the role of JM Barrie in part of the production in front of Ms Lumley.
He said "JM Barrie is such a well-loved figure and it's such an honour to be able to bring him to life onstage in celebration of his work and 140 years of drama at Dumfries Academy.
"Researching and writing this play with my friends has been a rewarding experience."
The show also saw The Theatre Royal Junior Guild of Players perform the first full production of Barrie's Bandelero the Bandit since 1877.
A world premiere of a piece of music entitled Peter Pan Moat Brae by 24-year-old composer Patrick Dupuy was also part of proceedings.
It was not the first time that Ms Lumley has visited Dumfries to check on progress with the conversion project.
A little over a year ago she was taken on a tour of the building while it was still largely a building site.
"It is so exciting to actually stand here in JM Barrie's 'enchanted land' and see our dreams for a Neverland Discovery Garden begin to come true," she said at the time.
Now she has had a chance to see how the site has been transformed in the intervening months while also helping kick off the Dreams for the Future Festival which runs until 2 December.