Safety warning over derelict Hawick mill building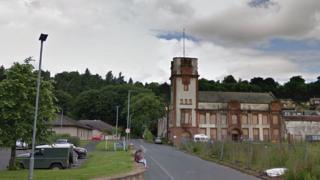 A safety warning has been issued to people entering derelict mill buildings in the Borders.
Hawick councillor Stuart Marshall said he feared teenagers in the town could be seriously hurt or even killed.
He expressed particular concern about the disused N Peal factory, off Victoria Road.
Mr Marshall accused some teenagers in the town of being "hell-bent" on running along roofs and entering the building.
He has called for the site to be redeveloped, but urged people to steer clear of the building in the meantime.
'Hazards are many'
He said: "We have got youths in the town that are hell-bent on running along the roofs and entering the building."
"Both residents and businesses round about are complaining that it won't be too long before there is a fatality in this factory.
"The hazards are many and the exits are very few."
He said he was working with police, the local secondary and Scottish Borders Council to try to get the message across.
Mr Marshall said he hoped someone might show an interest in the property in the near future.
He added: "What we just want now is people to come forward and develop it.
"It has a lot of potential but at the moment it is an eyesore and it is troublesome and it causes a lot of concern."