England player Ivor Broadis reunited with Wembley strip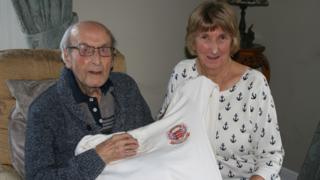 England's oldest surviving international footballer has been reunited with a shirt he wore for his country more than 50 years ago.
The strip Ivor Broadis wore against Scotland at Wembley in 1953 had been missing from his collection.
However, a recent story about him being made a freeman of Carlisle jogged Isobel Moffat's memory.
She borrowed the kit for a charity football game in southern Scotland in the 1960s and forgot to give it back.
Mr Broadis, 95, from Linstock near Carlisle, won 14 caps for his country, including three in the 1954 World Cup, when he scored twice.
He has a collection of his number 8 shirts but could not account for one of them.
However, the mystery has now been cleared up for the London-born player who formerly played for Carlisle, Sunderland, Newcastle and Manchester City before ending his playing days with Queen of the South in Dumfries.
Ms Moffat, from Thornhill in Dumfries and Galloway, borrowed the strip from a friend of Mr Broadis to wear at a charity football match in the 1960s in nearby Closeburn.
After the match it was washed and folded - but then forgotten about until the recent honour given to the player.
Ms Moffat said: "Ivor Broadis was getting the freedom of Carlisle and it was then it dawned on me - that's the international shirt that I have up that stair.
"Actually, I thought maybe it still wasn't there - it had been thrown out but, no, it was there.
"I was quite delighted that I had it and I thought 'I would love to give that man back his shirt.'.
"I think he was absolutely delighted to get it and it brought a nice wee smile to his face."
Ivor Broadis factfile
Born: London
Date of birth: 18 December 1922
Clubs: Carlisle (1946-49), Sunderland (1949-51), Man City (1951-53), Newcastle (1953-55), Carlisle (1955-59), Queen of the South (1959-60)
England career: 14 caps, 8 goals
Mr Broadis said he was pleased to get the shirt from the game which ended 2-2 - where he scored both goals.
He said his strips brought back "unbelievable memories".
"I couldn't really express how pleased I am because an England shirt to me is the sort of be all and end all," he said.
"They were great games - I am very, very pleased - they mean so much to you.
"To get it back is brilliant."