Dumfries and Galloway driver numbers caught using phone drop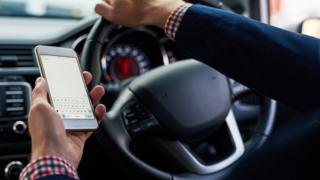 The number of drivers caught using a mobile phone in south west Scotland has dropped sharply since tougher penalties were brought in.
Figures for Dumfries and Galloway show they fell by 71%.
In March 2017 fines were doubled to £200 and the number of penalty points also increased to six.
In the first 12 months after the change the number of people caught breaking the law was 159 - a drop of nearly 400 on the previous total.
Sgt Leigh McCulloch said changes in the law and the use of in-car technology had contributed to the decrease.
However, she warned any distraction caused by using a mobile device could have fatal consequences.
'Absolutely essential'
"Reaction times for drivers using a phone are known to be around 50% slower than those driving normally," she said.
"As such it is absolutely essential that people concentrate on their driving rather than using their mobile phone.
"At the end of the day is the call that important that it is worth risking a life for?"
She said that although numbers had fallen, the use of a mobile phone remained a "known contributory factor" in crashes.
"Police officers throughout Dumfries and Galloway will continue to consistently monitor and target these offences on a daily basis and during national campaigns," she added.