Distress beacon near Eyemouth prompts second search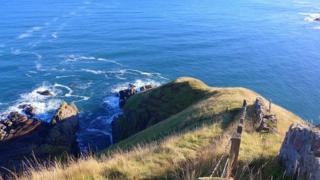 A second sea search operation in a matter of days off the Borders coast may have been prompted by a discarded alert unit at a nearby landfill site.
Eyemouth and Dunbar lifeboats were sent to the scene at about 05:30 by HM Coastguard.
It was caused by the same Emergency Position Indicating Radio Beacon (EPIRB) that sparked a search on Monday.
It is thought an activation of a discarded unit may be to blame.
Manufacturer
No vessels were found on either occasion.
Coastguards urged anyone in the area who owns an EPIRB - either on a vessel or in storage - to check it.
The device involved was first registered by the manufacturer in 1992 but has never been registered to a specific vessel.
People have also been asked to make sure they dispose of emergency beacons in a "safe and responsible manner".
They should either be returned to the manufacturer or disposed of according to instructions given with the device.