Anna and the Apocalypse: The zom-com musical the writer didn't live to see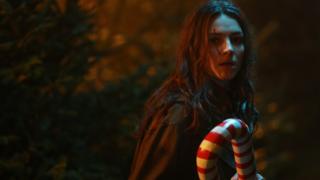 It was a trailer for High School Musical that provided Ryan McHenry with his inspiration.
The Scots film-maker reckoned the only way he might enjoy the film was "if the whole cast got eaten by zombies".
It sparked an idea for the movie Anna and the Apocalypse which goes on general release in cinemas on Friday - more than three years after the 27-year-old from Dumfries died of cancer.
Director John McPhail took on the project to bring it to the big screen.
"It was the brainchild of Ryan McHenry," he said.
"Ryan wrote and directed a short film called Zombie Musical which went on to win a Scottish New Talent Bafta.
"Then it got picked up to be developed by Black Camel into a feature film."
However, Mr McHenry - the man behind the award-winning Ryan Gosling Won't Eat His Cereal viral videos - was unable to complete that project.
"Through the drafting and development unfortunately Ryan was diagnosed with cancer and unfortunately passed away in 2015," said Mr McPhail.
"His long-term friend and producer Naysun Alae-Carew didn't want the project to go away and wanted to keep that sort of memory so he started to look for directors.
"They were looking at horror directors and musical directors and unfortunately just hadn't found that right fit."
Then they saw Mr McPhail's Where Do We Go From Here? - a romantic-comedy set in a care home - at Glasgow Film Festival, and that was when he got involved.
He said his latest project was one which surprised audiences.
"It is quite a fun and charming film that's got some real serious messages and undertones - it is all about kids dealing with death and that kind of coming of age," he said.
"People get a little bit on the back foot with it because they don't expect to end up crying.
"They are laughing and crying and cheering it is just this joyous film - it is just wonderful."
He said he had been "blown away" by the response at film festivals and hoped it could have a wide appeal.
"It is not just a film for kids or just for horror fans or just for musical fans," he said.
"We wanted to make a film that's for everybody to go and enjoy and feel joyous and feel good and leave the cinema buzzing and excited about."
Scottish location
A nomination for a Scottish Bafta for best feature film earlier this year was described by Mr McPhail as "amazing".
"It is a zombie musical set at Christmas, it is nuts," he said.
The zom-com musical film is also proud of its Scottish roots and location.
"Port Glasgow was perfect for us and the people down there were brilliant as well," added Mr McPhail.
"We will be out in the wind and the rain and the snow - it doesn't really matter what it is we are out there because that is just what we get.
"That is what we shoot in, that is what we work in."
It was something of a challenge, however, for actress Ella Hunt who takes on the role of Anna.
"Scotland is an amazing place to shoot and we had an amazing Scottish crew," she said.
"One of the biggest challenges was dealing with the cold because we were shooting in February of 2017 so it was really, really cold."
Nonetheless, she said it was a role she was keen to secure from the outset.
"I love crazy concepts - the bolder the better in some ways," she said.
"I was really on the lookout for teenage girl roles that didn't marginalise the teenage experience and that were three dimensional.
"Anna is so many things all at once that she was the most fantastic opportunity so actually I was kind of gunning for it straight away."
Music for the film was provided by Roddy Hart and Tommy Reilly who described the project as "totally intriguing" from the outset.
"We had never written a musical before so trying to get into that style of writing was a whole new universe," said Mr Reilly.
He described it as "total musical freedom".
"I think the thing that we loved the most was this is such an ambitious project," added Mr Hart.
"This is a zombie musical that has comedic elements that is set in Scotland, I mean what could possibly go wrong?
"Every time we watch it we find something new with it - it is a magical film."
'Really chuffed'
The finished movie is dedicated to Mr McHenry - and the man who took on the director's role believes he would have liked it.
"I can't make anybody else's film, I can't do anybody else's vision I can only do my own," said Mr McPhail.
However, thanks to the friends of Mr McHenry who were involved in the movie he believes it has honoured his memory.
"Just from their reactions I know that he would be proud of it and be really, really chuffed with it as well," he said.
"For someone who was a total prankster and such a funny guy and such a sweet, sweet man this is a real tribute to him."