Dumfries' North West Campus faults shown in reports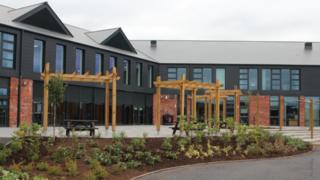 The catalogue of issues at a brand new school campus closed on safety grounds has been released in response to a BBC Freedom of Information request.
Three independent reports were compiled into problems at the £28m North West Community Campus in Dumfries.
Two of them have now been released and reveal a string of concerns and some potential injury risks.
However, one concluded the scale of the issues was about what would be expected in a school campus of its type.
The site - which opened in August - was shut the following month after incidents in which staff and pupils were injured.
It remains closed but repairs are said to be "on track" to be completed in December in order to reopen in the new year.
The reports released to the BBC were carried out by separate firms - Keppie Design and MAMG Consultancy.
The Keppie study concluded that most of the campus presented "little in the way of potential health and safety risk" over and above what would normally be expected.
It highlighted a few areas of immediate concern including:
a glass balustrade not securely fixed to the wall
pipe work and sprinkler heads which could be easily reached
a ceiling mounted curtain rack which collapsed when tested
a panel not securely fixed in a changing area
The MAMG report mainly examined external problems and runs to 64 pages listing a range of high, medium and low-level priorities - more than 90 in total.
Its most serious concerns included:
a manhole cover which could be easily lifted in the staff car park
no padlocks on gates leading to an air-handling plant
a gap in timber fencing round a sprinkler tank enclosure
Councillors were told this week that the work to fix issues on the site was about 60% complete.
It is hoped it can reopen to pupils in January.