Scottish Borders broadband investment's worth examined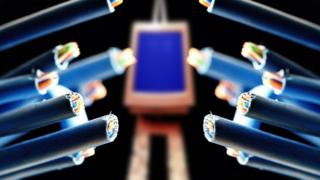 A programme to improve internet access in the Borders has "possibly" delivered value for money on a council's £8.4m investment, a report has concluded.
Scottish Borders Council put the funds into the Digital Scotland Superfast Broadband scheme and its predecessor.
The programme has been working to improve connectivity across the south east of Scotland since 2012.
A report said it had "probably" delivered a step change in services but "many more steps" were still needed.
The local authority's executive committee will look at the findings when it meets on 4 December.
It asked for a report on the success of the DSSB programme in the region as it enters its final phase.
'Very satisfied'
The study looked at whether it had provided value for money for the council's contribution.
It found that compared with predicted coverage levels without the programme it had gone well.
The report also concluded that the region had probably got "as good an outcome" as other rural authorities.
"There will be some very satisfied end customers in the Scottish Borders and some who continue to be dissatisfied," it said.
"The whole process was a project on a heroic scale and it has probably made a step change in superfast broadband services - but it has also exposed that many more steps are needed."