Police name victim of fatal minibus crash in Borders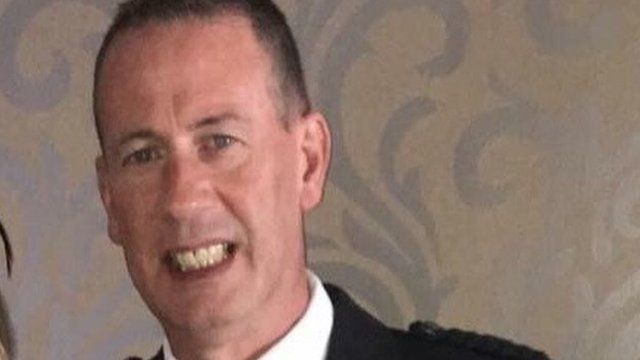 A man who died when a minibus overturned in the Scottish Borders has been named by police.
Ross Jones Barker, 59, was travelling to Kelso Races with a group from Newtongrange, Midlothian, when the accident happened.
The driver of the bus and 22 passengers were taken to hospital after the crash at 10:50 on Saturday.
Police said six of the men remained in hospital with serious injuries but were all in a stable condition.
Mr Barker, from Port Seton, East Lothian was one of an all-male group aged between 24 and 75 who were on board the private minibus.
Police said 14 were taken to Borders General Hospital in Melrose and eight to the Edinburgh Royal Infirmary.
One man was airlifted to the Queen Elizabeth Hospital in Glasgow.
Ch Insp Steven Duncan said an investigation was under way to establish the full facts of the accident.
He added: "This has been an outing among friends and associates which has turned into tragedy.
"Our sympathies are with Ross' family, who have respectfully requested privacy during this terrible ordeal as they try to come to terms with their loss.
"Our thoughts also remain with all those injured and their families."
A major incident was declared after the crash on the A6089 between Carfraemill and Gordon, near Lauder.
Survivors thank their rescuers
By BBC Scotland reporter David Cowan
A group of men from the minibus gathered together in Newtongrange today, some still clearly in a state of shock.
A man with cuts on his face pointed with his bandaged hand at one of his friends, and said he had smashed windows and dragged people out of the wreckage. "He's my hero," he said.
All of the group wanted to voice their gratitude to two groups of people.
They thanked members of the public who'd stopped at the remote scene in the Borders, giving first aid and offering blankets and warm drinks.
And they praised the emergency services for dealing with the aftermath and ferrying them en masse to hospitals in Melrose, Edinburgh and Glasgow.
The men expressed their sadness over the death of one of their number and reflected that more people could have been killed.
The man whose friend called him a hero said he felt lucky to be alive.
A former mining village, Newtongrange is, with justification, described as a close-knit community.
On the Main Street, pensioner Michael Docherty stopped to talk. "My neighbour across the road was concussed and his father-in-law has had stitches on his face," he said.
"When I went home last night and told my wife I was choking back tears because it's all people I know.
"In fact my younger son, my son-in-law and my grandson were all supposed to be on the bus but they didn't go."
On the road where the accident happened, the wind was whipping across from the hills. Tyre marks could be seen on the roadway, swerving into the field where the minibus ended up on its roof.
On Twitter yesterday morning, Traffic Scotland had advised that high winds were affecting driving.
The cause of the crash is being investigated by the police.
Photographs of the scene showed the upturned minibus in a field next to the road.
Police, ambulance and fire crews were involved in the rescue and recovery operation.
Ch Insp Duncan said: "I want to take this opportunity to thank our colleagues in the Scottish Ambulance Service and Scottish Fire & Rescue Service, who provided vital help in responding to this incident.
"We're also very grateful to the NHS, Scottish Borders Council and the public for their support of officers and all those affected."
Prayers for those caught up in the tragedy were said in Newtongrange Church hall on Sunday evening.
Local minister Rev Malcolm Muir said he wanted to provide a focal point for the community to reflect and pray.
He told the BBC Scotland news website that there was a "solemnity" around the village on Saturday as local people awaited news of the crash.
And he wanted to provide a "safe space" for the community to share their thoughts on Sunday.
A message on the church Facebook page said: "We send our love and prayers to the family of the man who has lost his life and to those injured for a speedy recovery."
It is understood that many of those on the bus were regulars at The Dean Tavern in Newtongrange.
In a post on its Facebook page, the pub said: "The management and staff would like to pass on our condolences to those affected by the horrific accident on the way to Kelso today.
"As we wait for more news to come through, our thoughts and prayers are with the family and friends of all those affected."
MSP Neil Findlay said two of his friends were among the first on the scene.
He tweeted: "Horrendous news about the Midlothian men whose minibus crashed on the way to the races at Kelso - my thoughts and prayers are with them and their families."
He later added: "Two of my pals were amongst the first on the scene and helped people out of wreckage - they said it was absolutely terrible to witness but they and others passers-by helped many people - god bless them all."
Staff at Kelso Racecourse tweeted a message of support.
They said: "Our sadness deepens as more facts emerge regarding the fatal vehicle accident, which involved race-goers on their way to Kelso yesterday.
"The accident will impact on a wide community which extends to many of those who regularly attend Kelso races.
"Our thoughts are with the family and friends of those involved and we wish those involved a speedy recovery."
Local MP Danielle Rowley also used Twitter to offer her condolences.
"My deepest thoughts and condolences are with all those affected by yesterday's tragic bus accident, and the whole community of Newtongrange," she said.
"In such a close knit community, this awful loss will be felt by all."