Baby boy 'critical' after dog attack in Hawick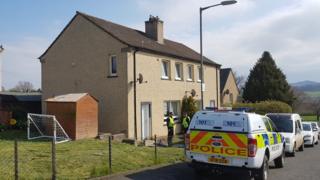 A six-week old baby boy is in a critical condition in hospital after being attacked by a dog in the Borders.
Emergency services were called to an address in Burns Road, Hawick, at about 16:35 on Thursday.
The baby was taken to the Borders General Hospital before being airlifted by a trauma team to the Royal Hospital for Children in Glasgow.
Police said inquiries were ongoing and confirmed that the dog involved had been destroyed.
One neighbour, Teresa Currie, told the BBC the family was "devastated" by what had happened.
"I saw the mummy coming out of the house screaming, her hands were in the air," she said.
"She wouldn't go back in the house which is a hard thing to do because as a mum you want to be there and do whatever it is you can do to take the pain away.
"He is not in a good way is what I have been told."
'Absolute tragedy'
Hawick councillor Davie Paterson said: "It's an absolute tragedy and it's going to hit the town hard.
"I don't know the full circumstances of what happened but from what I'm hearing the child could be scarred for life.
"I was told about it with the council yesterday and I was absolutely horrified."