New south of Scotland enterprise agency legislation passed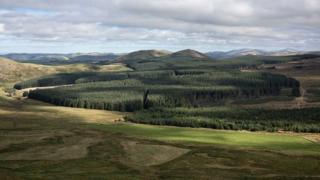 Legislation has been passed to allow the creation of a new enterprise agency for the south of Scotland.
Rural Economy Secretary Fergus Ewing described it as a "momentous day" for the Borders and Dumfries and Galloway.
The Scottish government has pledged that the new body will be up and running in eight months' time.
Mr Ewing said the enterprise agency would work to "transform the area's economy by building on its strengths and its traditions".
Speaking during the debate of the South of Scotland Enterprise Bill, he said the agency would help "respond to the different and distinct rural economy".
He said: "We all recognise the untapped potential of the South of Scotland - it has real strengths in traditional sectors like farming, forestry, fishing and textiles.
"It has developed sectors like food and drink, tourism and creative industries and it has opportunities to contribute to the industries of the future, not least in the low-carbon economy.
"This bill sets out the legislative basis for a new agency with the right powers to take forward the right activities."
MSPs unanimously approved the legislation, with work now started to appoint a chairperson for the new organisation.
---
How was the legislation received?
Galloway and West Dumfries Conservative MSP Finlay Carson said it was a "hugely welcome and exciting step forward". "The south of Scotland enterprise agency can be a catalyst for economic growth and business creation once again, in a region that so badly needs it," he added.
Colin Smyth, who represents the south of Scotland for Labour, welcomed the bill although he said he would have liked to see it go further. "It is now up to all of us to get behind and support the bill and make the new agency a success in delivering the strong and vibrant local economy that I know the south of Scotland can have," he said.
South Scotland SNP MSP Emma Harper said the area had a "different and distinct" economy which had its own opportunities and challenges. "It is vital that the new south of Scotland enterprise agency takes a fresh and tailored approach to supporting the south of Scotland's economy," she said.
Labour MSP for the south of Scotland Claudia Beamish said she had concerns for areas the agency would not reach. "Some of my constituents in Clydesdale and South Ayrshire are concerned and disappointed by what they believe to be a failure of the government to provide them with a similar opportunity," she said.
Ettrick, Roxburgh and Berwickshire Conservative MSP Rachael Hamilton said the new agency held the key to unlocking "significant potential". "The new agency should be an enabler, not a disabler," she said. "It must be dynamic and it must suit the needs of the south of Scotland."