Multi-million pound Borderlands goals agreed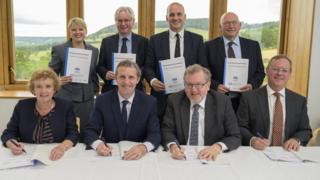 A major landmark has been reached in the progress of a multi-million pound investment scheme for southern Scotland and northern England.
Five cross-border councils and the Scottish and UK governments have signed heads of terms - an outline business case - for the Borderlands growth deal.
The two governments have confirmed funding of up to £350m.
The signing of the latest agreement is seen as a significant step towards unlocking that support for the area.
It is covered by Dumfries and Galloway, Scottish Borders, Northumberland, Cumbria and Carlisle City councils.
They have agreed to top up the deal with up to £45m between them.
Representatives of the local authorities signed the heads of terms along with Infrastructure Secretary Michael Matheson and Scottish Secretary David Mundell.
It spells out some of the key aims for the investment package which it is hoped can deliver about 5,500 jobs.
They include a study to look at extending the Borders Railway beyond Tweedbank to Carlisle.
It also involves other specific place-based projects such as:
Chapelcross Energy Park near Annan
Berwick Theatre and Conference Centre
The Mountain Bike Innovation Centre in the Borders
A range of wider themes have also been identified for investment including digital connectivity, energy and transport.
---
Borderlands' heads of terms: what else is in there?
The latest agreement defines the "broad activities" the two governments hope to support but does not form a legally binding contract.
Among the other projects it contains are a £5m play village at Alnwick Garden, the Star of Caledonia landmark sculpture at Gretna and a dairy innovation centre in Dumfries and Galloway.
Stranraer marina, the River Tweed walking and cycling route and Seven Stanes mountain bike network could also benefit.
The growth deal funding will be delivered over 10 years by the Scottish government and 15 years from the UK government.
All the projects are subject to full business cases showing they are "viable, value for money and sustainable".
---
What has the reaction been?
Scottish Secretary David Mundell said: "This is an ambitious approach to cross-border working between governments, local authorities and partners which will boost economic growth by helping existing business, encouraging new ventures and bringing a wealth of improvements to people who live and work in the area and to visitors."
Infrastructure Secretary Michael Matheson said: "Alongside the establishment of a new enterprise agency for the south of Scotland, and activities of the South of Scotland Economic Partnership, the Scottish government's £85m investment will deliver significant and lasting benefits right across the region."
Jake Berry MP, Minister for the Northern Powerhouse, said: "This once-in-a-generation deal will deliver unprecedented investment in the Borderlands region while strengthening our cross-border links."
Dumfries and Galloway Council leader Elaine Murray said: "The Borderlands Inclusive Growth Deal will have a transformational impact on the whole region, with the potential for 5,500 jobs, millions of extra tourists and improved mobile and digital connections thanks to the funding from the two governments and the additional investment the deal will attract."
Peter Jackson, leader of Northumberland County Council, said: "Significant work has gone in by all the partners and the two governments to get to this stage, and thanks to the very close working relationship we've made excellent progress to date and have no doubt that will continue as we all work towards signing the full deal agreement next year."
Scottish Borders Council leader Shona Haslam said it had "worked very hard" to make the case for the deal. She added: "It is fantastic today to be able to officially announce that all of the hard work has been successful. We have now taken a key step towards realising a cross-border deal that stretches from coast to coast, covering a huge rural area of Scotland and England."