Walkerburn fire: Two taken to hospital after chemical plant blaze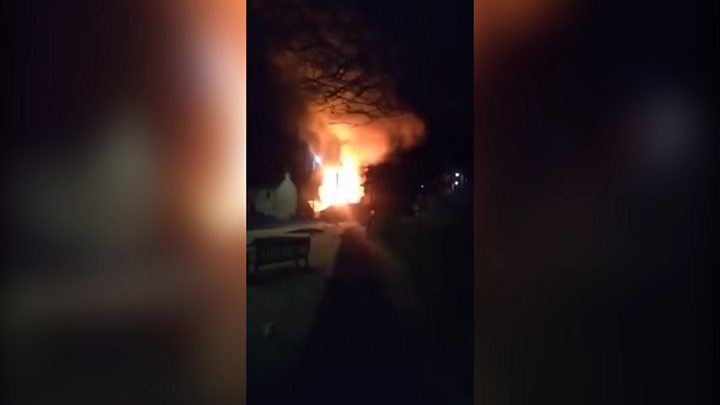 Two people have been taken to hospital after a fire at a chemical plant in the Scottish Borders.
Emergency services were called to Rathburn Chemicals in Walkerburn shortly before 07:00.
The Scottish Fire and Rescue Service was at the scene for several hours before the fire was fully put out.
Two casualties were taken to Borders General Hospital as a precaution and the nearby local primary school was also closed.
Scottish Borders Council said a number of homes had been evacuated with a total of 26 people having to be accommodated in a rest centre at the village hall.
Residents were allowed to return home at lunchtime.
The council added that debris from the fire - which it believed included roof tiles which could contain asbestos - had spread across the area.
A risk assessment is being carried out, however the local authority said it believed that any danger to the public was very low due to the type of material involved.
The public has been asked to leave any debris alone and inform the environmental health team of its location.
Specialist contractors are expected on site to help begin clean-up operations and the fire service confirmed the blaze had been "fully extinguished" shortly after 14:30.
South of Scotland MSP Michelle Ballantyne said she was "saddened" to hear of the incident and said her thoughts were with those who had been injured.
"Rathburn is very important to our community by providing jobs and wealth to our small village," she said.
"I will be speaking to the owner to see if they need any assistance to ensure that we don't lose the valuable contribution that they play."
The local primary school, which has a roll of 26 pupils, was shut as a precaution on Friday.
The A72 was also closed in the area and diversions put in place, but the road has since reopened.