Peebles High School fire: Pupils begin return after blaze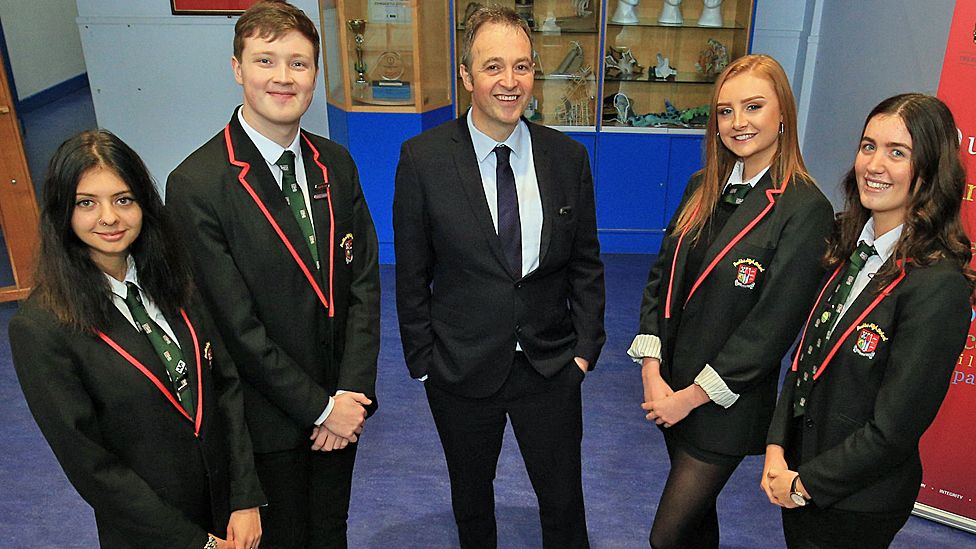 Pupils are returning to a secondary school in the Borders about two months after it was badly damaged by fire.
Students in S4 to S6 are going back to Peebles High on Monday followed by S1 to S3 children on Tuesday.
A small number of pupils with complex needs will continue to be taught in Galashiels while plans are developed for their return.
Scottish Borders Council said it had taken an "enormous amount of work" to get students back on the site.
Two boys have been charged in connection with the fire in November last year.
Council chief executive Tracey Logan paid tribute to the "exceptional support" to both the school and the council since the incident.
"The past two months have been an extremely challenging period for all concerned with the school and I am delighted that we have managed to be in a position to have the pupils back on site so quickly," she said.
"That has only been possible thanks to an enormous amount of work and the support provided to us, and of course the outstanding work by firefighters over several days to contain the fire and minimise the extent of the damage."
Head teacher Campbell Wilson said it was "fantastic" to welcome pupils back and thanked students, families and staff for their "patience, resilience and positive attitude".
"We are now fully focused on settling back in as quickly as possible and providing all subjects in the best possible settings in a remarkably short period of time, considering what has occurred," he said.
"From today it really is business as usual for us all and we look forward to wider discussions in due course about the future of the school."
An options appraisal - due to be completed by Easter - is being undertaken to evaluate all potential options for the long-term future of the site.
It will be used for consultation with parents and in talks with the Scottish government about the way ahead.
Related Internet Links
The BBC is not responsible for the content of external sites.