Teenager's astrophotography stars in science celebration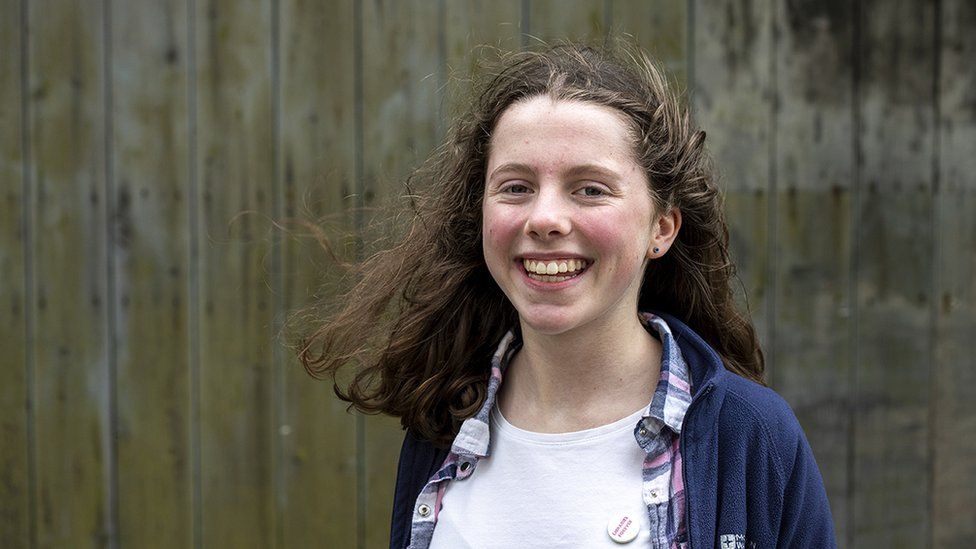 When teenager Helena Cochrane goes out at night her eyes usually point to the heavens.
Her passion for astrophotography - capturing the skies above southern Scotland - has earned her thousands of followers on YouTube and an exhibition of her work.
The 16-year-old from Wigtown is also participating in a discussion at the Big Bang science festival.
But how did she end up with what she admits is quite an unusual hobby?
A primary school project on space when she was aged just seven was the starting point of her interest.
"I started deep space astrophotography a year ago in April," she said.
"Before then, I was really interested in space from a very young age.
"I started looking at the moon from my windowsill in the kitchen with just a little Celestron starter telescope that mum and dad got me for my 10th birthday."
From there, Helena decided she wanted to develop her stargazing a bit further.
"I sort of started using bigger telescopes as I got older and as I started using those bigger telescopes I realised - I want to share this with other people and I want to share this feeling of excitement I get when I see these things," she said.
"How can I do that if they are not with me? Well, I could take photos."
That started in April 2020 which was just about perfect timing.
"The benefit of lockdown was I got to concentrate on it quite a lot," she said.
"Astrophotography isn't a very sociable hobby when you are on your own in your garden.
"So I did get to concentrate quite a lot on it and improve my skills too."
Helena admits the equipment she now uses is a bit "off the high end" but says a "small tripod and a camera" is enough to get a taste.
"You can really choose how expensive it gets," she said.
"I always say to people that start out: 'Don't go in too far because once you are in it deep, that's you for life really.'
"You can choose whether you like to break the bank or not - some people do."
To become part of a wider community Helena also set up her YouTube channel.
"I wanted to start right from the beginning - with absolutely nothing - to show you what it is actually like, because a lot of people don't show that side," she explained.
"The other main reason was to inspire younger women in science, particularly astrophotography, because that was another thing I noticed a lack of when I got into the hobby as well.
"I have met so many good people through it."
A lot of them are envious of Helena's south of Scotland base.
"Light pollution is measured on a thing called the Bortle scale," she said.
"It is really simple, so Bortle one is no light pollution and Bortle nine is middle-of-London level light pollution.
"I'm in Bortle two to three which is absolutely unheard of in the astro community and the people that I work with.
"They are all very jealous of my skies and I never take them for granted."
The quality of the teenager's work has earned her a place on the panel at the Big Bang festival in an event on Saturday called Reach for the Stars, alongside Abigail Beall, author of The Art of Urban Astronomy: A Guide to Stargazing Wherever You Are.
Helena's photographs are also part of an online exhibition organised by the festival.
She says the excitement of capturing the night skies is "like no other" and she hopes to carry on with it for a while to come.
"I don't intend stopping astrophotography or film at any time in the future," she said.
All images are copyrighted.
Related Internet Links
The BBC is not responsible for the content of external sites.