Rare Stewart royal seal bought at auction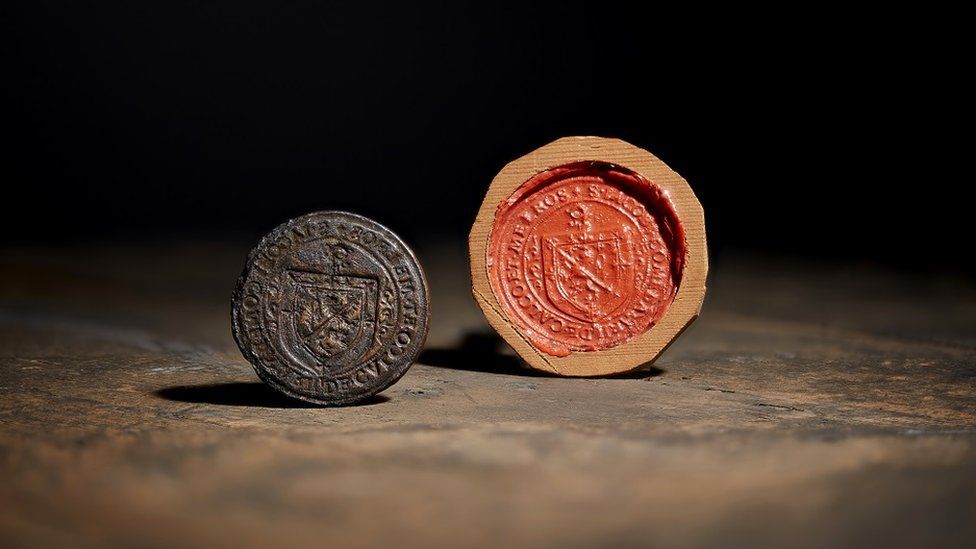 A rare 16th Century seal, made for one of King James V's numerous illegitimate children, has been bought by National Museums Scotland.
The item, not seen in public since 1901, belonged to James Stewart, half-brother of Mary Queen of Scots and dates back to the 1540s.
It showed his position as Commendator of Melrose and Kelso Abbeys, which were bestowed on him by the king.
The seal was sold in an online auction for more than £6,000.
James Stewart was the eldest son among at least nine illegitimate children fathered by King James V.
The seal matrix showed recognition from his father despite being born out of wedlock and not receiving royal titles.
It was used for making an impression on a wax seal, to authenticate a document or to keep it closed.
As commendator of the abbeys of both Kelso and Melrose during the 1540s and 1550s, James Stewart would have enjoyed significant status.
He had authority not only over the lands and income of both the abbeys, but was also responsible for local defence.
The last time the seal matrix was seen in public was in 1901 when it was displayed during the Glasgow International Exhibition at Kelvingrove Park.
Since that time it had remained in the same family before going up for sale, organised by Edinburgh-based auctioneers Lyon & Turnbull.
NMS Principal Curator Renaissance and Early Modern History Dr Anna Groundwater said: "This is an important addition to our collection and we are delighted to have saved it for the nation.
"It has a direct connection to the Royal Stewart dynasty and moreover shows how King James V was prepared to give status and financial security to his illegitimate offspring, whilst also protecting his regional interests.
"This object has not been seen in public since 1901, so we're very pleased to bring it into the national collection where we will be able to put it on display in due course."
Related Internet Links
The BBC is not responsible for the content of external sites.