Tower light show starts Sir Walter Scott celebrations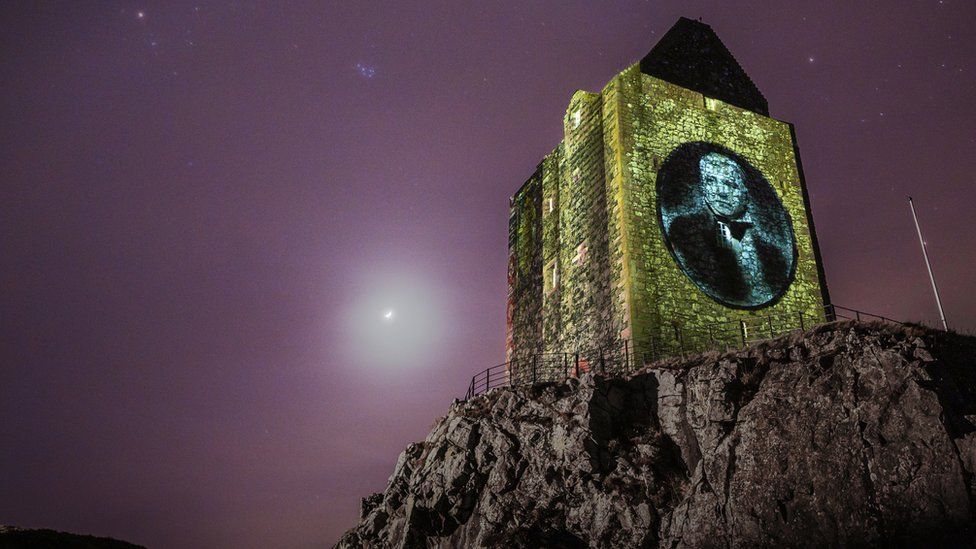 A light show has launched celebrations of the 250th anniversary of the birth of Sir Walter Scott.
It saw Smailholm Tower in the Borders lit up in tribute to the influential author.
Scott was born in Edinburgh on 15 August 1771 and is often considered the inventor of historical fiction.
He had strong Borders connections and lived for many years at Abbotsford House which hosts a huge collection of items related to the writer.
The light show was timed to coincide with World Storytelling Day.
It also saw the premiere of the short film Young Scott, created by video artist Andy McGregor.
Giles Ingram, chief executive of Abbotsford, Scott's former home near Melrose, said storytelling day seemed an "appropriate time" to launch celebrations.
"Smailholm Tower is next door to the farm where Scott lived as a boy, and his early experiences here continued to inspire him throughout his life," he said.
"Scott's life and death is written on the Borders landscape, so Smailholm's intimate link with Scott gives it a particular potency and magic as we begin the celebrations of his 250th year."
VisitScotland's film and creative industries manager Jenni Steele said the author had "ignited an interest in Scotland as a visitor destination" with his works.
She said many tourists were inspired to visit areas featured in books, TV or film and it was hoped the celebrations of Scott could help "shine the spotlight on his legacy" in the Borders and across Scotland.
Born in Edinburgh in 1771, the novelist, poet, historian and biographer is often considered the inventor and greatest practitioner of the historical novel.
His love of traditional tales from the Borders was evident from an early age and would influence his work in later years.
A prolific writer in many forms, Waverley, Rob Roy and Ivanhoe are among his most famous novels.
His books were hugely popular during his lifetime - allowing him to buy Abbotsford House in the Borders - but the great financial collapse of 1825 hit him hard and he worked to pay off huge debts and near bankruptcy.
He died in 1832 at his home near Melrose but his influence on other writers had been, according to Encyclopaedia Britannica, "immediate and profound".
On a good day, it offers views as far as Bamburgh Castle, 33 miles (50km) away in Northumberland.
In 1645, the Scotts of Harden, near Hawick, bought the tower and estate and leased it to Walter 'Beardie' Scott - better known as Sir Walter Scott's great-grandfather.
Scott himself was sent to the area as a child for the good of his health and it was at nearby Sandyknowe farmhouse that his grandmother and aunt told him the tales of the local countryside that would influence his work.
Source: Historic Environment Scotland
Related Internet Links
The BBC is not responsible for the content of external sites.