Uncovering the stories of the 'Devil's Porridge' mixers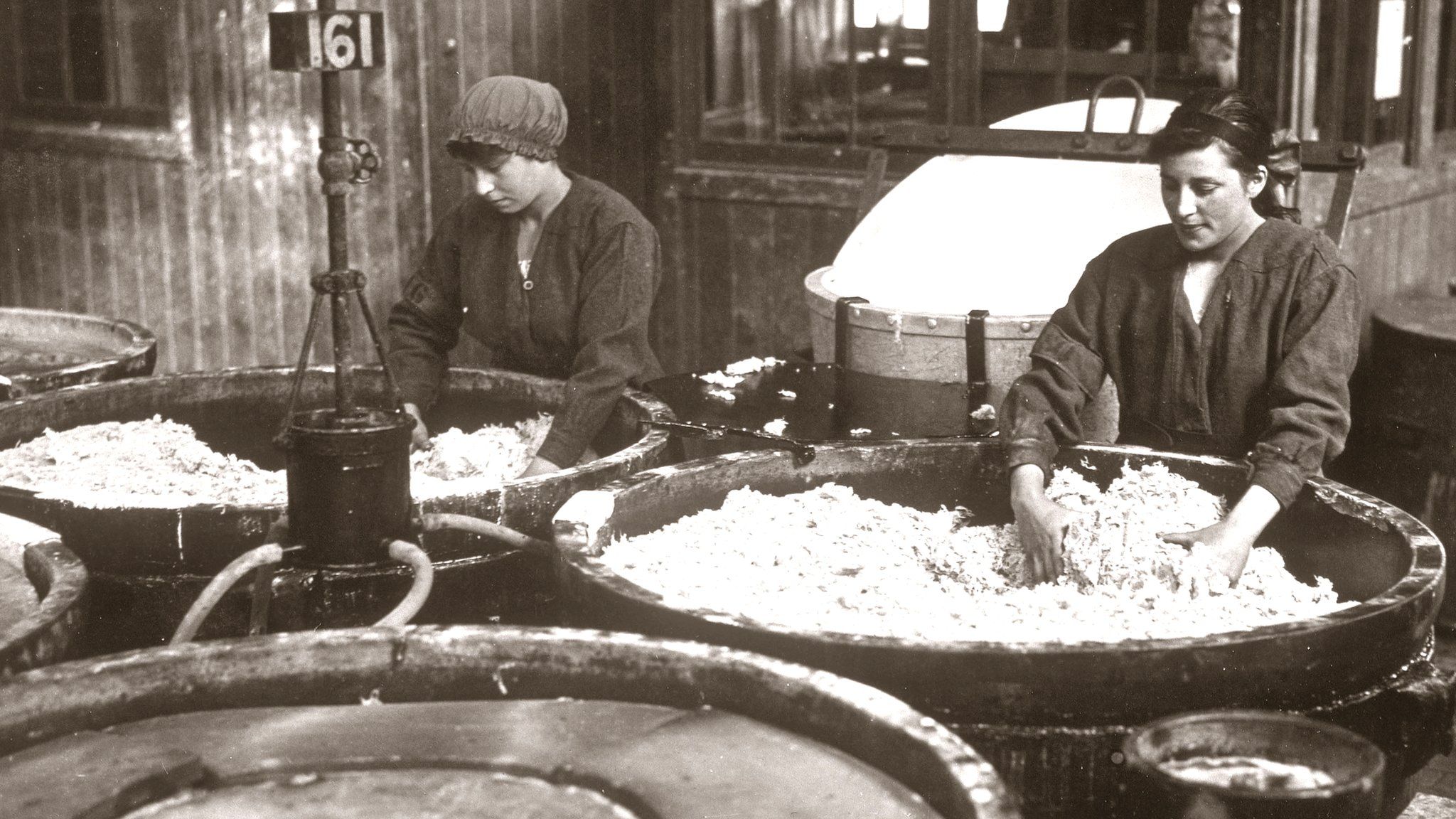 A research project wants to tell the stories of the tens of thousands of people who made "devil's porridge" at a World War One munitions factory which was mainly staffed by women.
HM Factory Gretna stretched over nine miles (15km) from Dornock near Annan to Mossband in Cumbria.
The "super factory" was built in response to a shortage of Western Front fire power.
Many of their stories are relatively unknown, and it is hoped this can be changed through new studies.
Laura Noakes, research assistant at the museum, said: "We want to uncover interesting historical stories that maybe haven't been told before.
"We are keen to know more about the munitions workers - who were often working-class single women - and who are left out from many histories of the war."
The museum has already unearthed a number of tales.
The factory had a women's football team called the Mossband Swifts.
"Women's football became increasingly popular during the war, but there were concerns that the beautiful game wasn't suitable for women," said Ms Noakes.
The team was not officially sanctioned by factory management but did play against women's teams from other factories - often in aid of charities.
Research has found the Swifts were captained by a Miss A Riddell - but work is ongoing to find out more details about her story.
Ms Bruce is known for two "notable incidents" at the factory after her arrival in late 1916.
In the first, she helped to tackle a blaze in a cotton drying machine.
"In the second, another fire broke out," said Ms Noakes.
"Maud climbed up 20ft (6m) to the top of the drying machine and cut away cotton, preventing the fire from spreading and stopping a potentially catastrophic incident from occurring."
She was awarded the Order of the British Empire in August 1917 "for admirable behaviour in charge of the women's fire brigade at a fire at an explosive factory".
John Charles, known as JC, Burnham already had a "distinguished career" before coming to Gretna.
He had worked at a cordite factory in India before becoming superintendent at the huge south of Scotland site - a position he held until 1921.
"Despite his success, Burnham didn't have a privileged start in life," said Ms Noakes.
"In fact, both of his parents died in London workhouses, and JC attended Macclesfield Industrial School.
"This was a home for poor children, orphans and those who had been sentenced to a period of confinement in the courts of law."
Burnham would be awarded a CBE for his work at Gretna and showed King George V and Queen Mary around the factory when they visited in 1917.
'We want to add to our knowledge'
The museum now hopes to flesh out the stories of others such as Maud Bruce, JC Burnham and the Mossband Swifts.
"This project is all about finding more about people who worked at HM Factory Gretna during World War One," explained Ms Noakes.
Using both remote and in-person volunteers they hope to discover more details.
These will then be put into a central database and the most interesting stories shared via articles and social media.
"We want to add to our knowledge of the people who made up HM Factory Gretna and, by extension, the people who lived through World War One," Ms Noakes said.
Related Internet Links
The BBC is not responsible for the content of external sites.