Hong Kong $5 note fetches £130,000 at auction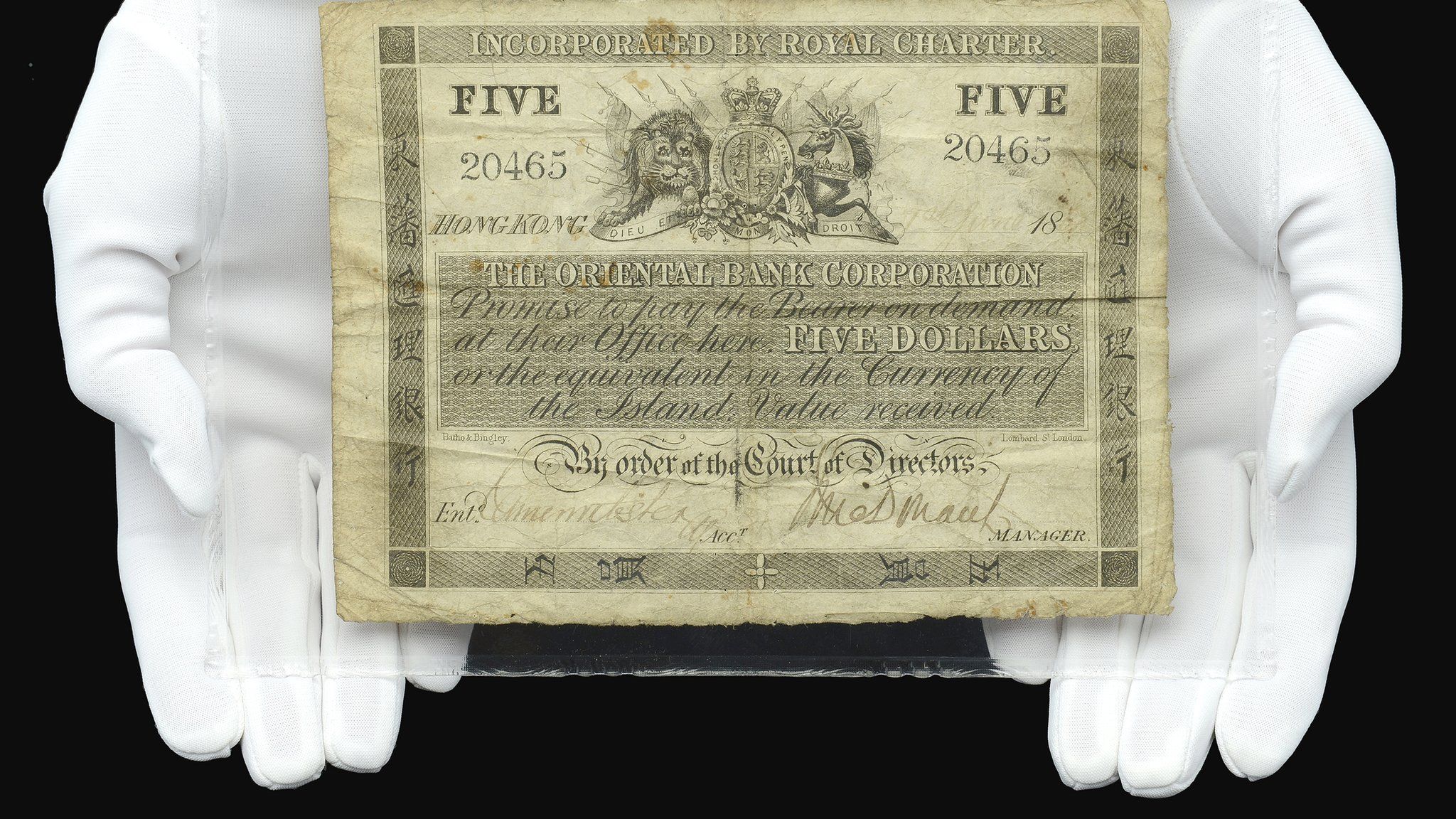 A rare Hong Kong $5 banknote has sold for £130,000 at auction.
The 161-year-old note - issued by the Oriental Bank Corporation - carries the signatures of Scots manager John McDouall and accountant James Webster.
Auctioneers Dix Noonan Webb said it was the earliest known fully issued Hong Kong banknote of any denomination.
It had been expected to fetch between £30,000 and £50,000 at the sale in London but ended up being sold for considerably more.
Throughout its history the Oriental Bank Corporation had a head office in London but also a sizeable branch in Edinburgh. Many of its senior staff were Scots.
Manager John McDouall was born in Stranraer in 1831 and started work with the company by the age of 20.
Andrew Pattison, head of the banknote department at Dix Noonan Webb, said he must have been a "bright and a hard worker" to rise to the role of manager of the Hong Kong branch by 1860.
When he died in a carriage accident, aged 53, he was manager of the entire corporation.
The other signature on the note is of James Webster from Crail in Fife - born in 1833 - who was assistant accountant with the bank by 1859.
He left the corporation in 1865 to return to his home town but continued to work in banking and died in 1913 in Burntisland.
Mr Pattison said it was unclear how the note got to the UK but it was probably in the late 1800s with a British person travelling or working in the Far East.
"Five dollars was a lot of money in Hong Kong in 1860 so for someone to have this note and not redeem it is quite unusual," he said.
"They probably brought it back here and forgot about it."
The note was sold to a collector from Hong Kong and, with a buyer's premium, the total price was £161,200.
Related Internet Links
The BBC is not responsible for the content of external sites.