Internet ban for ex-soldier over child porn images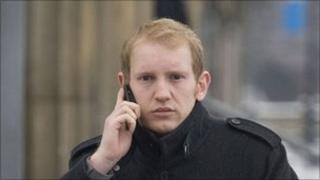 A former soldier who was caught with more than 10,000 images of child abuse has been banned from using the internet.
Neil Robertson, 29, admitted possessing the images between June and December.
He was ordered to do 200 hours unpaid work, put on probation for three years and attend a project for sex offenders.
Sheriff Donald Ferguson banned him from accessing the internet via a computer or internet-compatible phones and put him on the sex offenders register.
Robertson was also banned from living in a house, having unsupervised contact or working with anyone under the age of 17.
Fiscal depute Charmaine Cole said: "In November 2009, Tayside Police received intelligence that an IP address of the accused's father may have child pornography images."
"A search warrant was obtained for the house and a computer was recovered. Both parents gave statements to say the laptop was used by the accused.
"The accused was detained and he fully admitted that he had indecent images on his computer. They found 10,600 images of children and 50 video clips."
Robertson, who served in the army between 1999 and 2009, claimed he had acted out of "curiosity".
The sheriff told him that by downloading the images he had effectively made more than 10,000 children the victim of his crime.
He said: "On any view, this is an appalling crime.
"Every image you have is an image of a victim and that is the most important thing you have got to understand.
"Taking account of the vast number of images alone, it would be appropriate to send you to prison.
"But it can also be said that the huge number of images emphasises the need for you to get help."
He added: "On balance it is in the public interest to place you on probation for a lengthy period in order to address those issues."