Summer stockpile of road salt created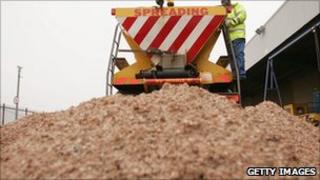 Clackmannanshire Council has stockpiled 4,000 tonnes of salt in case of a repeat of last winter's road chaos.
The dreadful conditions saw the council use 3,000 tonnes of salt on the roads, more than double its usual amount.
A spokesman for the council, Councillor Eddie Carrick, said theirs was one of the few councils in the country not to run out of gritting salt.
Mr Carrick said it had been a tough test and the council wanted to be ready for "whatever lies ahead".
A survey is to be carried out later this year to gauge the views of local residents and businesses on their performance.