Lord Roberston lectures students at Stirling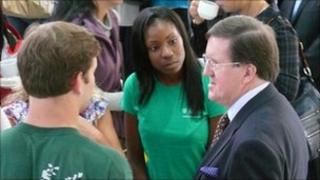 Governments need to have smarter, faster strategies and form new patnerships to solve conflicts, according to the former Secretary of State for Defence, Lord Robertson.
He made the comments during a lecture to foreign students attending the International Summer School at Stirling University.
The lecture was entitled Threats and Challenges to World Order 2010.
The University said it was very pleased he had taken time to share his views.
Deputy principal, Professor Grant Jarvie, who introduced the lecture, said: "During his tenure as Secretary of State for Defence and as NATO's Secretary General, Lord Robertson operated at the epicentre of some of the most potentially explosive and divisive events, both in Europe and the wider world.
"His strategic responses to these challenges have stood the test of time and his ongoing understanding of the real and present dangers to world order has few parallels."