Man attempted car hosepipe murder in Brechin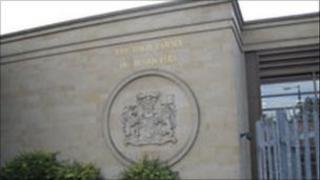 A man who tried to kill himself and his girlfriend by switching on his car engine and running a hosepipe into the vehicle has been jailed for six years.
Dennis Cannon's attempts were foiled because his Audi had a catalytic converter and his girlfriend managed to open an air vent.
The High Court in Glasgow heard the incident happened last September when Cannon stopped at a lay-by in Brechin.
Cannon, 52, had admitted attempted murder at an earlier hearing.
Judge Lord Bannatyne described it as an "extremely nasty offence".
The court heard Cannon pulled into a lay-by, claiming he wanted to talk to his girlfriend Diane Perry.
He then smashed her mobile phone before repeatedly punching and kicking her on the head and body.
Ms Perry, 38, managed to escape but Cannon dragged her back into the car.
Laura Thomson, prosecuting, told the court he kept her in the vehicle for three hours with the engine switched on and a hosepipe through a rear window allowing fumes to enter.
She continued: "The intention of the accused at that point was to end both his life and that of Ms Perry.
"However, due to the car having a catalytic converter, which had the effect of reducing carbon monoxide in the fumes, the attempt was unsuccessful. Ms Perry had also managed to open an air vent without him noticing."
The court heard Cannon conceded defeat and said: "This German car ain't going to kill us."
He drove Ms Perry home before she called the police the next day.
Lord Bannatyne told him: "This was an extremely nasty offence lasting three hours. It must have been terrifying for the complainer."
He jailed Cannon for six years and placed a supervision order on him for a further three years on his release.