Ground-breaking Stirling estate orchestra grows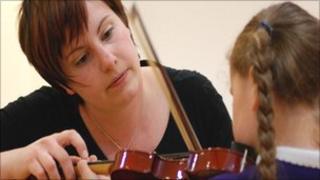 A ground-breaking children's orchestra in Raploch, Stirling, is set to expand to a full symphony orchestra by the end of the year.
Residents in Raploch have long fought to alter its image as an area associated with high unemployment and high crime rates.
The orchestra scheme, called Big Noise, uses music to foster confidence, teamwork and aspiration in children.
It will now get an additional nine new teachers.
The orchestra is based on the methods of Venezuela's "El Sistema" movement, first piloted 30 years ago, which aims to transform the lives of deprived youngsters through music.
The Raploch orchestra was launched in summer 2008 by the charity Sistema Scotland and is funded by the Scottish Arts Council and private donors.
It provides children with tuition and instruments free of charge, aiming to create an orchestra of world-class musicians.
Sistema Scotland director Nicola Killean said: "The existing team of eight wonderful musicians have already established a strong core of strings.
"With the arrival of our nine new teachers, we aim to have a full symphony orchestra in Raploch by Christmas.
"A symphony that produces not only fine music, but challenges and develops its members helping them fulfil their potential in all areas of their lives."