Soldier Michael Lockett died on last day in Helmand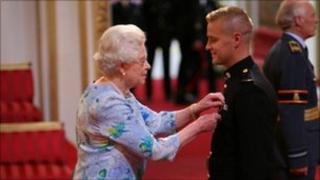 A Scottish solder who had been awarded the Military Cross was killed in Afghanistan on the day he was due to return home, an inquest has been told.
Acting Sgt Michael Lockett, 29, from Angus, spotted an improvised explosive device while won foot patrol in Helmand province in September 2009.
It exploded when he knelt down to mark it with spray paint.
The coroner recorded a verdict that Acting Sgt Lockett had been unlawfully killed while on active service.
The inquest in Trowbridge, Wiltshire, heard that the father-of-three, from Monifieth, had been knocked unconscious by the explosion, which also injured two other soldiers.
His comrades carried him over a partially destroyed bridge to a helicopter landing site but he died before he could reach the field hospital at Camp Bastion.
Acting Sgt Lockett, of 2nd Battalion The Mercian Regiment (Worcesters and Foresters), had been leading the patrol back to their base, which was only 450m away.
He had already served in Bosnia and Northern Ireland and was on his third tour of Afghanistan, which had started that March.
He was awarded the Military Cross for his bravery after fighting insurgents and leading his platoon to rescue injured colleagues trapped in a Taliban ambush in Garmsir in 2007.
L/Cpl Matthew Cornell, who had known Acting Sgt Lockett for seven years, told the inquiry: "He was a great commander, a great bloke. What he didn't know wasn't worth knowing."
Cpl Carl Peterson praised the dead soldier's professionalism, saying he had been told by Acting Sgt Lockett: "I'm not happy leaving here until I've shown you everything and until you're happy with everything."
He added: "When I met him, I thought: 'This is the big boss, a Military Cross winner.'
"All I've got is pure admiration for him, and anyone who met him would have said the same thing. He was an outstanding soldier and he knew his stuff."
'Larger than life'
Coroner David Ridley said he could not be sure if it was Acting Sgt Lockett, or one of the other soldiers, who accidentally set off the pressure pad explosive device
Acting Sgt Lockett's girlfriend Belinda English, whom he had been due to fly home to visit, parents April and Malcolm and ex-wife Natalie Lockett were too upset to comment after the inquest concluded.
Paying tribute at the time of his death, his parents said: "We are immensely proud of Mike - he was everything that we could ever have wanted in a son and was a devoted father to Connor, Chloe and Courtney. He was always positive, and always seemed larger than life.
"We can only take solace in the fact that he died doing a job that he was born to do with his 'boys' in 2 Mercian Regiment."