Flood clean-up under way in Perth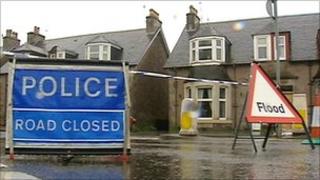 A clear-up operation is under way in Perth, a day after the worst flooding in more than 17 years.
About 4cm (1.5 in) of rain fell in just a few hours on Wednesday causing road closures and flooding in numerous homes and businesses.
One flood expert called on the council to make flood prevention a priority.
Paul Hendy of the Scottish Flood Forum said: "Flooding shouldn't occur after an inch and a half of rain. Drains and gullies should be able to cope."
Speaking on BBC Radio's Good Morning Scotland programme, he said: "The local authority, as a priority, needs to look very seriously at what went wrong yesterday, purely and simply to allay the fears of people here in Perth that it will never happen again."
"People lose so much emotionally and it impacts on their lives as well."
At the peak of the response effort on Wednesday, Tayside Fire and Rescue had mobilised 10 fire appliances and specialist flood appliances.