Fathers of Tobin victims slam killer's no show in court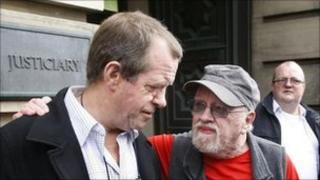 The fathers of two murdered teenage girls have accused Peter Tobin of "playing the system" after he fell ill before his latest court appearance.
The 63-year-old serial killer failed to appear at the Appeal Court in Edinburgh to contest his 30-year sentence for murdering schoolgirl Vicky Hamilton.
But Vicky's father, Michael, said Tobin was "playing the system".
Ian McNicol, whose daughter Dinah was killed by Tobin, said the appeal was "a farce" and he was "a chancer".
Vicky Hamilton, from Redding, Falkirk, disappeared in 1991 while waiting for a bus near Tobin's then home in Bathgate, West Lothian.
The 15-year-old's body was found along with that of Dinah McNicol, 18, in the garden of Tobin's former home in Margate, Kent, in 2008.
Tobin was convicted of murdering Vicky following a trial at the High Court in Dundee in December 2008.
The handyman was also convicted of murdering Dinah McNicol in December 2009 while he was already serving a life sentence for the murders of Miss Hamilton and a third woman, Angelika Kluk, 23.
Tobin's appeal - that his minimum 30-year sentence for murdering Vicky was excessive - was due to begin on Thursday.
At the brief hearing in front of judges Lord Carloway, Lord Clarke and Lord Malcolm, defence QC Donald Findlay said: "This case was due to call in relation to an appeal concerning the punishment part imposed by the trial judge at Dundee High Court, however two matters have arisen.
"Tobin has apparently been taken ill and I gather information has been received that he is not fit to attend court and medical tests are being carried out beyond that I am not in receipt of any specific information."
He added there were "issues" with the legal representation. But the QC insisted that there was an issue of "some importance" regarding the punishment part of Tobin's sentence that merited court time.
Lord Carloway said the judges had been informed Tobin was unfit to attend court due to ill health and continued the hearing for a period of about two months. A date will be fixed later.
It is the second time the appeal has had to be put off due to Tobin's ill health and Michael Hamilton said he felt like shouting out in court - "it's a waste of time".
Speaking afterwards, he said: "He is playing the system. I do not believe he is ill at all.
"It is using public money that is all that's happening."
Mr Hamilton's thoughts were echoed by Ian McNicol, 71, who had travelled from Essex to attend the hearing.
Mr McNicol, who is staying with Mr Hamilton in Falkirk, told how they had struck up a friendship since their daughter's bodies were found together in a temporary grave at Tobin's former Margate home.
He said: "It is a complete farce, he is just mucking everybody about. He is costing the tax payer a fortune and he is a serial killer.
"He is a chancer and he is playing the system and he is ripping it off."
Mr McNicol called for the law to be changed to stop criminals such as Tobin being allowed to appeal.
Tobin is serving three life sentences for the murders of Vicky and Dinah as well as Polish student Angelika Kluk, 23, who he killed in Glasgow in September 2006.
In the past week, police dug up one of his former homes in Brighton. The search was part of Operation Anagram, set up to examine Tobin's past. They eventually ruled out any evidence of criminality.
In the latest development, officers have begun using specialist ground penetrating radar equipment to search inside the ground floor of a former hotel in Brighton where Tobin used to work as a handyman.
Teams of officers and archaeologists are continuing to dig up the garden of the property in the search for potential victims.
Tobin lived in the area in the 1980s.