Show features clothes peg dress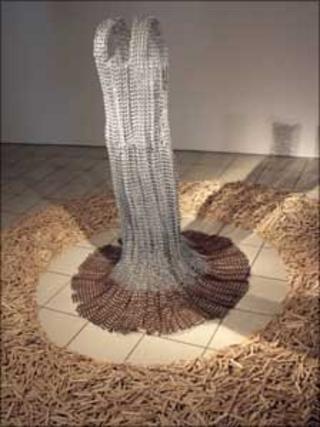 A dress made from 12,000 springs taken from clothes pegs is one of the highlights of a new art show opening at Abertay University in Dundee.
The 500 Miles North show was sparked off by the Courvoisier Future 500 list, a network of people involved in art, business and culture.
The university invited the Scottish-based artists on the list to create new artworks for the contemporary art show.
Artist Ronnie Forbes will open the show in the Hannah Maclure Centre on Friday.
The Scottish figurative painter will open it to the public from 1900 BST.
Clare Brennan, artist and assistant cultural projects officer at the university, brought together all the artists on the list.
She said: "This is a hugely exciting project, bringing together artists from completely different disciplines and pushing them beyond their comfort zone.
"Instead of just collecting together existing art, the exhibition also challenged them to make completely new works in response to all the other artists in the show.
"We're bringing the idea of the network into the art itself - creating new opportunities by working together."
'Massive scale'
The pieces on show cover a range of practices, from painting and sculpture to installations and intricate glass-blowing.
One of the highlights is 'Highly Sprung' by Julia Douglas, a dress made from 12,000 clothes peg springs.
Clare added: "This exhibition has taken a year of hard work and soul-searching to bring together.
"We think the public will enjoy it enormously.
"There is really something for everyone here, from dramatic contemporary painting on a massive scale, to incredibly intricate glass work."