Son admits stab attack on mother in Dundee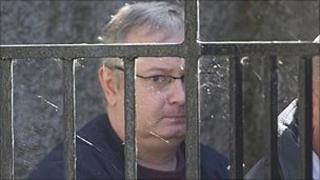 A man confessed to stabbing his mother "between 10 and 20 times" because he feared she was plotting against him, a court has heard.
Mark McDonald told police he picked up a kitchen knife before luring Veronica Reid to her garage in Dundee's Kelso Place and stabbing her last July.
He said he believed the 66-year-old, also known as Veronica McDonald, was conspiring with neighbours to harm him.
The 42-year-old denies culpable homicide on the grounds of insanity.
He told police officers he became concerned when his mother's neighbours changed into black clothes, because he thought it signified death.
'Bit uptight'
The jury at the High Court in Perth heard him tell police: "I said to her, 'Mum, there's something in the garage that I want you to see. I'm not quite sure what it is'.
"Previous to that I went to the kitchen and got a knife. Mum came in the garage and I said, 'I know what you have been up to. I know what you are doing to me'.
"She said, 'I'm sorry, I'm sorry.' I attacked her and stabbed her. I was very shaken and sweaty after it. Guilty. Sorry for my actions. A bit uptight. Agitated. I was shaking like anything, I was sweating like anything.
"I love my mum to bits, but the relationship hadn't been the same. I felt something was going to happen to me that night."
'Not the same'
He claimed his mother had been touching her ear and nose in a series of signals and told police he felt he was being watched by cars which kept going round outside.
The jury heard that he had argued with his mother earlier in the evening, and she had told him: "Mark - I am sick of this. I can't live my life like this. You are not the same lad you were before."
After leaving his mother's body in the garage, McDonald drove to the Carseview psychiatric unit in Dundee, where he had previously been treated.
McDonald, who was appearing in court from the State Hospital in Carstairs, is alleged to have repeatedly punched and kicked his mother on the head and body, struck her neck with a wooden baton and stabbed her.
The trial before Lord Malcolm continues.