Man released from hospital days before killing mother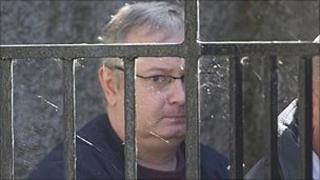 A court has heard a psychiatrist did not want to release a patient from hospital three days before he stabbed his mother to death.
Dr Audrey Morrison told the High Court in Perth she wanted Mark McDonald to remain at Dundee's Carseview Centre.
She said she was concerned that his mental health had deteriorated in the days before he killed Veronica Reid.
McDonald, 42, confessed to stabbing the 66-year-old but denies culpable homicide on the grounds of insanity.
The court heard he had been discharged from Carseview on 28 July and admitted to police that he killed his mother at her home in the city's Kelso Place on 31 July.
However, Dr Morrison told the jury McDonald had been a voluntary inpatient and therefore she did not think she could compel him to stay in hospital.
Mrs Reid was stabbed more than 30 times and her neck was broken during the attack by her son, who was being monitored by the acute mental health response team at the time.
The court heard McDonald suffered from "paranoid delusions" and believed he had been appointed a Mafia don as a toddler and his mother was conspiring with neighbours to harm him.
Dr Morrison noted: "He should stay, but he is not detainable."
The consultant psychiatrist persuaded him to stay an extra day, but McDonald - who had been sectioned several times since 2004 - was then discharged.
He had told staff he had pushed his mother prior to his admission to the unit on 5 July and complained during his stay that she was interfering with his life.
"He told me he had pushed his mother," Dr Morrison said. "He deeply regretted that and knew it was the wrong thing to do."
Wooden baton
Advocate depute Bruce Erroch asked: "You had no concern he posed a risk of harm to his mother?"
Dr Morrison replied: "Not at that time."
Mr Erroch asked: "Had there been evidence of a real risk would there have been grounds to detain him?"
Dr Morrison said: "Yes. I don't feel I had enough to detain him under the Mental Health Act that day," adding that the rules on compulsory detention were "very strict".
McDonald, who was appearing in court from the State Hospital in Carstairs, confessed during a police interview to stabbing his mother "between 10 and 20 times" because he feared she was plotting against him.
He is alleged to have repeatedly punched and kicked Mrs Reid on the head and body, struck her neck with a wooden baton and stabbed her.
The trial, before Lord Malcolm, continues.